What a great year for film it's been. After the numerous delays from last year, 2021 has been especially abundant, with films that we've waited so long to see finally being released. So our writers huddled together to compile the best movies of 2021: 5 writers, 25 films, 1 list.
There are still quite a few films that are being released later this month that could be contenders: Guillermo del Toro's Nightmare Alley, Steven Spielberg's West Side Story and Adam McKay's star-studded Don't Look Up. But as with any list, this list is far from definitive – ask me in a month's time and my top films might no longer be the same.
There're also films that didn't make this list, but deserve a mention, like John Krasinki's A Quiet Place Part II. For some of us, this was the movie that brought us back to the cinemas again. It's difficult to pull off a successful sequel that could rival the first film in a franchise, but Krasinski did it. Then there's Will Smith's King Richard, which is a really solid film that's immensely well-acted. Some other good films that didn't make our list should appear in our underrated movies of 2021 list, so look out for that.
We hope you enjoy the films we selected for this list, but if you didn't, that's alright. That's the great thing about art and cinema, we might not always agree, but we can still appreciate a well-made film. Without further ado, and in alphabetical order, here are our best movies of 2021.
The Best Movies of 2021
1. Annette
Director: Leos Carax
Annette is touched with fantastical surrealism, spawning an unusual, yet intoxicating presentation about a glamorous couple and their child. Henry (Adam Driver), a stand-up comedian, grapples with confidence and flickering resentment. Outshined by his partner Ann's (Marion Cotillard) successful singing career, Henry questions his pursuits of greatness until their daughter's birth changes his life's trajectory.
Directed by Leos Carax and featuring a musically sung screenplay by the Sparks brothers, Annette plays out like a delirious fever dream. Characters float along in a dream-like state, passion-fueled drive electrifying them while simultaneously destroying them. The film unpacks its themes through harrowing acting performances, trance-inducing songs, and cinematography vibrating with a sense of ethereal illusion.
Annette showcases why experimental films which bend expectations memorably impact audiences. A viewer simply can't forget this artistic sensation once they've experienced it.
– Katie Liggera
2. CODA
Director: Sian Heder
CODA stands for Child of Deaf Adults, and that child is the protagonist of the film. When we first meet Ruby Rossi (Emilia Jones), she's singing as she works with her brother Leo (Daniel Durant) and father Frank (Troy Kotsur) on their fishing boat. Ruby is the only one in the family who isn't deaf, and because of that, she becomes her family's means of communication with the rest of the community.
All her life, Ruby believed her path was laid out for her. She isn't good at school, so when she's done with high school, she'll work full time with Leo and Frank. Her family is her life and work on the fishing boat was all she could envision for her future. But music changes everything.
CODA does a great job at making the Rossi family feel incredibly real – the sibling banter, the loving relationship between Frank and Jackie (Marlee Matlin), the frustrations that exist between Ruby and her mother Jackie because of music. The cast is amazing, everyone pulls their weight and they sell the emotional richness of the story with such ease. It's the kind of film that will worm its way into your heart, and etch itself onto your soul.
– Natasha Alvar
3. Cry Macho
Director: Clint Eastwood
Director Clint Eastwood keeps the dramatic stakes for Cry Macho fairly low. Yes, it's a story of an aging rodeo star and horse breeder (Eastwood) tasked with bringing an old associate's young son (a compelling, natural Eduardo Minett) to him from Mexico. However, at no particular point, even as Eastwood's epically cranky Mike Milo encounters a variety of mostly-humorous obstacles, do we suspect that this kid is in any real danger.
Where the film wants us to really pay attention is in how it portrays affection. The warmth of this road movie, which occasionally steers into subjects like regret and uncertainty, becomes its foundation. That may not be enough for some. I loved the film's gentle pace, likable characters, and rich perspective on aging, and ideas on masculinity and family.
Cry Macho is also a story about redemption. The fact that it does this so unpretentiously, which is not always the case with Clint, is another factor in its favor.
– Gabriel Ricard
4. Dune
Director: Denis Villeneuve
Back when it was announced that Denis Villenueve was set to direct a big screen adaptation of Frank Herbert's Dune, the entirety of the planet's nerd population were on the edge of their seats. One of Hollywood's most meticulous, ambitious filmmakers taking on perhaps the most popular sci-fi novel of all time? It seemed like a match made in heaven – and, as it turns out, it was.
Villenueve's Dune is cinema at its absolute finest. An unprecedented sense of scale, a chillingly hypnotic score, a phenomenal cast fully committed to the cause – it has it all. The term masterpiece is arguably used too often these days, but no single word sums up this film better.
It is an absolute triumph from start to finish. And this is just the beginning.
– George White
5. Flee
Director: Jonas Poher Rasmussen
A gripping animated documentary, Flee conveys an Afghan refugee's heartbreaking story of loss and trauma with intimate, deeply cathartic power.
Director Jonas Poher Rasmussen allows his friend Amin Nawabi, using a pseudonym, to tell his own emigration story and the ways his present-day life in Denmark has been morphed through his life-or-death experiences. Fleeing Afghanistan during his adolescence with his family and arriving in Russia — its own kind of hellscape — Amin must reckon with a new, dangerous reality, all the while hiding aspects of his identity to protect himself.
Depicted with beautiful, at times disorienting animation, Flee immerses us in Amin's personal history, which ultimately extends far beyond him alone. Characters move jaggedly while their environment swirls and distorts, trapping them in its grasp. The film is bleak and grim, but glimmers of hope shine through the darkness, as Amin struggles to make peace with his past and forge a path forward. Simply put, Flee is not a "comfortable" watch, but it shouldn't be. This is an empathetic, incredibly moving piece of work that remains unforgettable and startlingly timely.
– Alex McPherson
6. Judas and the Black Messiah
Director: Shaka King
No one can begrudge Daniel Kaluuya for picking up an Oscar for Judas and the Black Messiah – his imposing, intoxicating presence steals the spotlight every time he's on the screen. Yet it's a shame that LaKeith Stanfield's layered, complex performance was ultimately overlooked. As FBI informant Bill O'Neal, a criminal tasked with providing intel on the Black Panther Party, Stanfield is tasked with undermining a cause he finds himself supporting, and he takes the audience through O'Neal's arduous, exhausting journey with prowess.
Judas and the Black Messiah tells its true tale of betrayal and discrimination with elegance and grace, but offers real grit and bite when needed. Director Shaka King – with only his second feature film – has surely announced himself as one to watch.
– George White
7. Last Night in Soho
Director: Edgar Wright
Regardless of the script's divisive final act, Edgar Wright's Last Night in Soho is a fundamentally gorgeous film that captured my attention through every transportive scene. Psychological horror films require essential components to both scare and shine. Last Night in Soho expertly seesaws between horror and allure through its visually stunning tonal shifts.
The performers give award-worthy performances, deftly conveying nuance in their roles. Viewers are unequivocally mesmerized as the innocent Eloise (Thomasin McKenzie) transforms to mirror the elegance of 1960s singing-hopeful Sandie (Anya Taylor-Joy) she visits in her dreams.
The film juxtaposes the glittering, glowing facade of Sandie's world with Eloise's murky life through lighting, brilliant costuming, and wide camera shots. What stands out most is the way darkness intercepts the light in both timelines. Last Night in Soho's diaphanous terror evolves subtly and dramatically. Our hearts constrict in fear along with the affable characters as their gilded fantasies fracture.
– Katie Liggera
8. Licorice Pizza
Director: Paul Thomas Anderson
Taking place in the early 1970s Encino neighborhood of Los Angeles, Licorice Pizza charts the turbulent friendship between the confident, self-assured, 15-year-old Gary Valentine (Cooper Hoffman, son of the late Philip Seymour Hoffman) and the 25-year-old Alana Kane (Alana Haim), a young woman drifting through life unsure of who she wants to be.
Anderson structures the film semi-episodically, depicting an authentic push-pull dynamic where Gary and Alana end up running back into each other's arms when the dust settles, even though their bond isn't exactly sustainable. No matter their age difference, the vibe they share helps them overcome their doubts, insecurities, and the ill-intentioned "adults" they encounter along the way — including cameos from Bradley Cooper as a completely bonkers Jon Peters and Sean Penn as a self-obsessed movie star.
The pair have adventures that offer them both a sense of happiness that, while fleeting, they each long for. With luscious cinematography, masterful acting (Haim is the standout), a tight, oftentimes amusing script that subverts romcom clichés, and a tangible sense of place, Licorice Pizza casts an alluring spell. Gary and Alana's time together might be short-lived, but their experiences are ones to remember, wrapped together in a film I can't wait to dive back into.
– Alex McPherson
9. Malignant
Director: James Wan
Can we even talk about the sharp left turn found in one of the most surprisingly entertaining horror films of the year? That isn't a spoiler. At this point, almost everyone understands that Malignant, directed under the ever-steady presence and talents of James Wan, has a cannonball of a twist, a tonal shift, or whatever you want to call it.
What you want to know, if you still haven't seen this story about a young woman who uncovers a shocking (to her, anyway) secret behind dreams of real people being really murdered, is if the twist/shift/etc is any good? Is it justified? Does it make sense?
I think you ultimately have to just surrender to the absurd, sometimes exciting spirit of this movie. My only advice to those who still haven't seen this shockingly fun movie is to avoid filing Malignant neatly into one category or genre within horror. This film has a good time with several different styles and approaches. It works particularly well if you don't take that too seriously.
– Gabriel Ricard
10. Mass
Director: Fran Kranz
Mass involves two sets of parents meeting up with one thing in common: they both lost their sons on the same day in a mass shooting at school. The difference? One son is the shooter, the other is the victim.
The meeting starts off tentative, with pleasantries exchanged, tension in the air as they skirt around the elephant in the room. They each share mementos related to their children, each time requesting permission to do so, however, because one son is a murderer, and the other his victim — every memory associated with the former, no matter how innocent, is tainted with all the blood he's spilled.
It tackles a sensitive subject matter with such nuance, and the acting from the four lead actors – Martha Plimpton, Jason Isaacs, Ann Dowd and Reed Birney – is just superb. It is all so riveting and mesmerizing, and this is a difficult feat to pull off for one-location films. Mass is proof that we don't need bombastic visuals or scenic locations to make a good movie. Sometimes, all it takes is a conversation in a small room, and a stellar cast.
– Natasha Alvar
11. No Sudden Move
Director: Steven Soderbergh
The American noir film is alive and well in the riveting ensemble crime drama No Sudden Move. Covering a wide range of characters and situations, with the main thread tied to the botched kidnapping of a bank manager and his family, the movie is a winning combination of dark humor and wild circumstance.
The discreetly bizarre, sometimes firmly rooted in a reality we the audience can very easily relate to, with its story set in a highly politicized 1950s Detroit, comes up again and again in this film. Our characters, with fantastic performances by Don Cheadle, Benicio del Toro, and Amy Seimetz, are clearly working under the machinations of forces more powerful than they are.
At the same time, these poor damn people are also sometimes just the victims of the most colossally poor circumstances. No Sudden Move keeps them in a labyrinth of brilliant, well-paced deception. Director Steven Soderbergh tells a surprisingly dark story here, with the larger implications far more unsettling than the ultimate fates of these characters.
– Gabriel Ricard
12. Passing
Director: Rebecca Hall
Passing strips away color to offer one of the year's most profound films about color. Two light-skinned Black women find themselves attracted and curious about one another's choice to not pass – or in one woman's case – to pass as white in New York City's racially tense social scene.
Irene (Tessa Thompson) who lives in Harlem rekindles her former friendship with her now white-passing friend Clare (Ruth Negga), after an encounter in New York.
Director Rebecca Hall emphasizes the women's duality through shot-reverse-shot close-ups framing the women intimately onscreen. The 4:3 aspect ratio and black and white color palette forces focus on emotional motivations. Shots linger, creating a slow pace while the women's interactions become increasingly fraught with tension as they process their internal agony. Words left unsaid speak more about their characters than scripts with double the dialogue.
– Katie Liggera
13. Petite Maman
Director: Céline Sciamma
Perhaps one of the shortest films of the year, but undoubtedly one of the most impactful, is Céline Sciamma's Petite Maman. Focusing on a young girl whose grandmother has just passed away, and her newfound friendship with a neighbouring child of the same age, this is a heartfelt, intimate exploration of family and loss, with a touching twist that is executed to perfection.
There is very little in the way of a score or a story, but Sciamma's ability to draw you into the life of the main character, Nelly, is remarkable, and her willingness to sit in moments of emotion makes this exceptionally powerful. The film's young stars, real life sisters Joséphine and Gabrielle Sanz, are incredible, and the cinematography is autumnal and aesthetic.
Petite Maman may well be small – in budget, in scale and in name – but it boasts a giant, beating heart.
– George White
14. Pig
Director: Michael Sarnoski
Pig is a film about love, loss and the meaning of life. The film is structured like a 3-course meal, and as you consume each part, the hope is that it brings you a tad closer to finding some measure of peace within yourself.
Rob (Nicolas Cage) has chosen to isolate himself in the Oregonian wilderness, where he makes a living through his skilled truffle-foraging pig. He does business with Alex Wolff's Amir, and their relationship is merely a transactional one. This all changes when Rob's pig is taken, and he needs Amir's help to get back to the city, where he navigates his way through the seedy underbelly of the exotic foods world.
This film is proof that when you give Cage good material, he absolutely kills it. Right up there with him is Wolff, who I've loved ever since his performance in Hereditary. Amir plays up this sense of confidence and being a key figure in the exotic foods game, but this is all a façade, an act of bravado for his father Darius (Adam Arkin), to prove that he can swing it with the big boys, when in reality all he wants is to receive a measure of approval from his father.
Pig masquerades as something unassuming, before coming in like an emotional wrecking ball that will smash you into pieces. It's a brilliant film, so please go watch it and experience it for yourself.
– Natasha Alvar
15. Rocky IV: Rocky vs Drago
Director: Sylvester Stallone
Nostalgia can be a disastrous choice sometimes. There is also perhaps something to be said about the more frustrating aspects of engaging with, and demanding an increasing number of, director's cuts. The idea of Sylvester Stallone revisiting the entertaining-but-perhaps-too-ridiculous Rocky IV is just too intriguing to be ignored.
Making dramatic cuts to the 1985 original, including the elimination of the film's lighter, arguably inappropriate moments, Rocky vs Drago also incorporates a considerable amount of new footage Stallone dug out of the archives personally. His supervision of a new approach to Rocky Balboa's fateful showdown with Ivan Drago (Dolph Lundgren), the man who murdered his best friend and formal rival Apollo Creed (Carl Weathers) in an exhibition bout is quite frankly the most impressive achievement of his career.
The essentials of Rocky IV have not been changed. What makes that all the more impressive is in how well Stallone reshapes and focuses these essentials. For long-time fans, watching this will feel like we're experiencing this film all over again.
– Gabriel Ricard
16. Shiva Baby
Director: Emma Seligman
A claustrophobic, acerbic, and scorchingly funny coming-of-age story with sharply drawn characters, Emma Seligman's Shiva Baby leaves you gasping for breath yet craving more by the end credits.
Danielle (a nervy, palpably anxious Rachel Sennott) is a recent university graduate who feels directionless. She works as a sugar baby, and the film begins with a rendezvous with wealthy client Max (Danny Defarri), who wrongly thinks he's helping to pay her law school tuition. While attending a shiva with her family later in the day, she bumps into Max again — wife and baby in tow —and the shaky façade Danielle attempts to maintain crumbles before her eyes.
With judgmental adults pestering her about everything from her weight to her love interests to career prospects, and high school sweetheart Maya (Molly Gordon) being in attendance, the situation spirals out of control, and Danielle's defensive impulsivity goes off-the-rails. Presented like a blackly comic horror film, each development builds layer upon layer of stress, rendering brief moments of heart-to-heart connection between Danielle, Maya, and her well-meaning albeit insecure mother (Polly Draper) like breaths of fresh air.
The darkly hilarious screenplay — exploring self-identity, cultural pressures, and our need for a shoulder to lean on — is among the year's best, and this debut feature promises a bright future for Seligman and Sennott especially.
– Alex McPherson
17. Spencer
Director: Pablo Larraín
Larraín presents a vision that is singular and arresting, placing much of his film's success on the shoulders of his leading lady, who absolutely delivers. Kristen Stewart truly embodies Diana's spirit and essence, and she does it so naturally that it doesn't feel like mimicry at all. It's uncanny at times watching her on screen – her mannerisms, that coy head tilt, the constant ennui – it is not always seamless, but it is so utterly believable.
Larraín's Spencer is more expressionist than realistic, with the film's imagery used to show us something about Diana's interior. These moments are hauntingly captured, and Stewart fully commits to them all. He draws parallels between Diana and Anne Boleyn, and unnervingly foreshadows Diana's fate should she continue to stay in the royal family. It feels akin to Blanche DuBois' descent into madness in A Streetcar Named Desire, and the jazzy, discordant tones in the soundscape (Jonny Greenwood's score is impeccable) reflects that sense of melancholy and despair.
Ultimately, Spencer feels like a love letter to Diana – it charts her vulnerabilities, fragilities and agonies, but also showcases her strengths. A powerfully moving film and one of the more remarkable films of 2021.
– Natasha Alvar
18. The Card Counter
Director: Paul Schrader
Though decidedly imperfect as a whole, and about as bleak as the man has ever been, Paul Schrader's The Card Counter has a lot to offer. It has one of the best performances of Oscar Isaac's endlessly impressive career, and it offers some brutal, strikingly original notes on the consequences of inaction.
I'm impressed by just how distinctive Schrader manages to make most of this story of a gambler (Isaac) whose current path with the cards is forced to contend with a haunted past. Schrader has never been shy about going bold on revenge, obsession, and the nature of living with the ghosts of your various choices in life. Featuring Isaac, Tye Sheridan, Tiffany Haddish, and frequent collaborator Willem Dafoe, The Card Counter is about what happens when we try to avoid a reckoning.
With The Card Counter, which benefits from crisp, engaged cinematography and clever editing by Alexander Dynan and Benjamin Rodriguez Jr, respectively, you have a very strong story of morality from one of the best on that particular subject.
– Gabriel Ricard
19. The French Dispatch
Director: Wes Anderson
Yes, this is the most Wes Anderson film to have ever Wes Anderson-ed – but that's no bad thing. The French Dispatch may lack the finesse and focus of The Grand Budapest Hotel – its anthology-esque approach leading to more of an uneven viewing experience – but this is still an enjoyable, playful piece of cinema.
Following the escapades of a team of journalists from cultural magazine – you guessed it – The French Dispatch, Anderson's latest features some stand-out performances from Benicio Del Toro, Adrien Brody and Léa Seydoux. Yet, ultimately, it doesn't really matter what the characters are doing – just taking in the beautiful production design of this gorgeous movie is enough of a treat.
Can Wes Anderson decorate my home, please?
– George White
20. The Green Knight
Director: David Lowery
David Lowery isn't exactly known for playing it safe. In fact, he may well be the single most unique director in the game – and The Green Knight may well be his finest, most daring work to date. Following Dev Patel's Sir Gawain as he navigates mythical beasts and deceptive deviants all in the name of honour, this is fantasy filmmaking at its peak.
Patel is one of the most diverse actors around, and he executes Lowery's bizarre vision with impressive poise and surprising subtlety. Considering award bodies' aversion to the unusual – particularly in the world of fantasy (The Lord of the Rings aside) – this is unlikely to be in the running for any major prizes, but that shouldn't take away from the fact that this is a bold, radical success.
– George White
21. The Last Duel
Director: Ridley Scott
Ridley Scott's The Last Duel is a mature and bruising drama that matches its visceral action sequences with tangible stakes and thematic relevance. The film, based on true events and a novel of the same name by Eric Jager, chronicles the last state-sanctioned duel in medieval France between the arrogant, headstrong squire Jean de Carrouges (a mulleted Matt Damon) and his equally corrupt longtime friend Jacques le Gris (Adam Driver), buddy of Count Pierre d'Alençon (Ben Affleck, giving an enjoyably bananas performance).
They agree to fight after the rape of Jean's wife, Marguerite de Thibouville (Jodie Comer), by Jacques, but they're truly focused on asserting their "honor" above all else. Scott breaks the film into three sections through each party's perspective, illustrating the dissonance between how Jean and Jacques view themselves with how others view them — peeling back the layers of their societally supported toxicity to finally see the truth through Marguerite's haunted eyes.
Although slightly held back by Scott's excessive tendencies, The Last Duel is a thrilling, sobering epic that features Comer giving one of the year's best performances, and a final trial by combat that's absolutely chilling — both in the raw spectacle of it all, but also in how Marguerite, her own life on the line, is thrown into the situation by forces that disregard her humanity. If only it did better at the box office. Damn millennials.
– Alex McPherson
22. The Power of the Dog
Director: Jane Campion
Jane Campion creates much like an artist does; broad strokes on a canvas, each frame coming together to weave an absorbing work of art. That's what The Power of the Dog is: a sweeping masterpiece vibrating with emotional intensity.
Phil (Benedict Cumberbatch) and George (Jesse Plemons) are brothers trained in the ranching ways of Bronco Henry, a man Phil speaks of with reverence at every turn. Yet there's something distant and unreachable between them: Phil desires emotional intimacy with his brother, but George doesn't know how to relate to Phil at all – they can't even see eye to eye on the matter of bathing. It comes as no surprise then that George looks for connection elsewhere, and finds comfort in his relationship with Rose (Kirsten Dunst).
Dunst is mesmerizing to watch on screen, her madness and despair so palpable and heart-wrenching. She's such a versatile actress, able to wear any character like second skin. Just when I thought I knew what to expect from a Benedict Cumberbatch performance, The Power of the Dog comes barrelling in to slap me in the face for assuming I knew anything. He commands every single scene, and transitions with ease from seething fury to flushed yearning – all that heaving masculinity masking deeper truths within. It's the best he's ever been, and this is strong praise considering his extensive body of work.
Campion's The Power of the Dog is truly one of the best films I've seen this year.
– Natasha Alvar
23. The Suicide Squad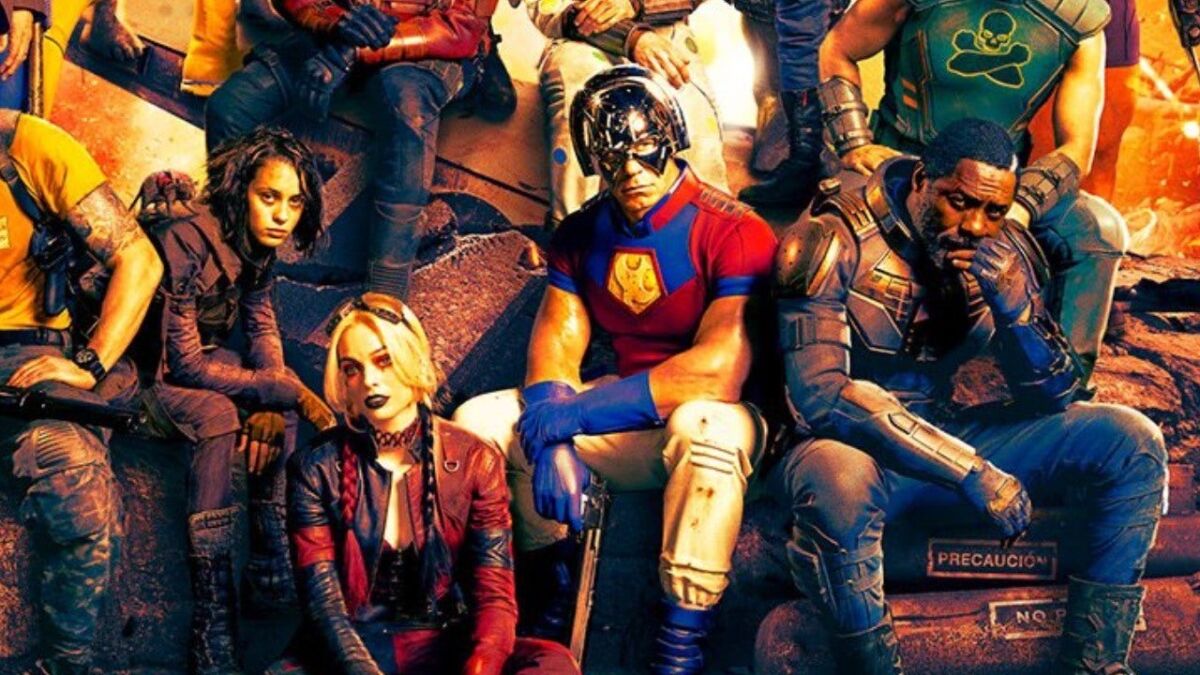 Director: James Gunn
The Suicide Squad is a redemptive film. It redeems both its questionable predecessor film and the frankly lackluster superhero film offerings from 2021. Primarily, director James Gunn's The Suicide Squad gives misanthrope underdogs, villains, and anti-heroes a shot at redemption through thoughtful character development.
Formally dubbed Task Force X, Amanda Waller sends a group of the DC Universe's most dangerous and unhinged supervillains on a deathly mission to Corto Maltese island. As a reward for success, they will earn their freedom — if they survive.
The premise may sound familiar, but The Suicide Squad vastly differentiates itself from common superhero film tropes. Gruesome and snarky, the movie's cinematography parodies war films while characters simultaneously murder their enemies and engage in witty banter. All the Squad members are memorable, but the adorably violent King Shark (Sylvester Stallone) steals the show.
The Suicide Squad lovingly homages action films and superhero comics alike, brimming with humour and heart.
– Katie Liggera
24. Tick, Tick… Boom!
Director: Lin-Manuel Miranda
In a current social stratosphere where time seems more valuable than ever and successful career expectations bludgeon its 20 to 30-year olds, Lin-Manuel Mirada's Tick, Tick… Boom! arrived at an opportune moment in 2021. Based on his one-man show, the film follows a tumultuous week in the life of Jonathan Larson.
The famous composer and playwright died at the young age of 35, and the film immediately relates Jonathan's death in its opening scenes. This tragedy heightens the film's irony with that simple line of dialogue, disappearing into the ether as the scene transitions into Jonathan (Andrew Garfield) performing onstage. Tick, Tick… Boom! relays Jonathan's self-imposed pressure to write something great before he turns 30 and the looming AIDS crisis through frantic camera work.
A non-stop pace buoyed by vigorous, catchy songs and Andrew Garfield's heart-wrenching performance created one of the most riveting, inspiring cinematic experiences of the year.
– Katie Liggera
25. Titane
Director: Julia Ducournau
Condensing my thoughts on this flat-out masterpiece into a couple of paragraphs is challenging, but suffice it to say, you ain't seen nothing like Julia Ducournau's Titane before. This is far more than just "the movie where the woman has sex with a car." The film follows an erotic dancer named Alexia (Agathe Rousselle), who had a titanium slab implanted in her skull after barely surviving a car crash as a child.
Alexia obviously has difficulty connecting with those around her, and within the first 15 minutes, she brutally kills people and has sex with a flame-streaked cadillac, arguably against her will. Pregnant and on-the-run, she soon meets Vincent (Vincent Lindon), a grief-stricken father reeling from his son's disappearance, and the connection they build together helps each navigate a terrifying, repressive world.
Part of why Titane is so effective is that it focuses on the horror of Alexia not having control over her body, or any true agency over her life. Nevertheless, she begins the film as a murderous, repugnant serial killer, but evolves to fill a space in Vincent's heart, as well as, gradually, her own. Indeed, Ducournau's film is never static, remaining thrillingly unpredictable through to its powerful conclusion. You will squirm, cover your eyes, and gasp, but you might shed a tear. You will also be watching the single greatest film of 2021.
– Alex McPherson
READ NEXT: Littlewood Gives You A Whole World | Best Games of 2021
Some of the coverage you find on Cultured Vultures contains affiliate links, which provide us with small commissions based on purchases made from visiting our site. We cover gaming news, movie reviews, wrestling and much more.