NEWS | FEATURES | PREVIEWS | EVENTS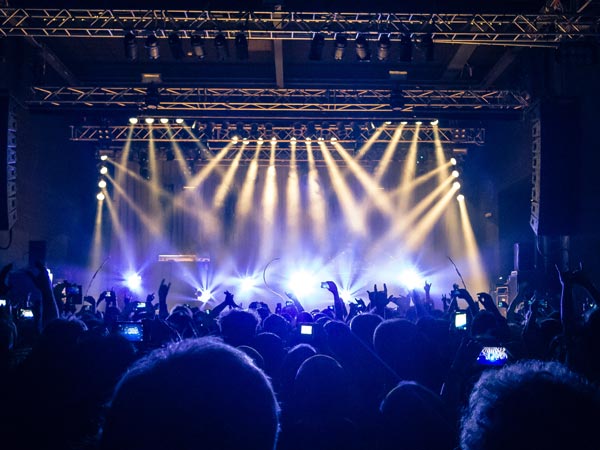 (HOPEWELL, NJ) — Hopewell Theater will reopen with a slate of indie films and live performances from a variety of emerging and established artists presenting music, comedy, theater, and improv. On September 10th – the theatre's four-year anniversary – the theater's first show will be a celebratory performance by Hopewell-born rock singer-songwriter Daniella Cotton, alongside guitarist Matt Beck and drummer Aaron Comess. The event includes a pre-show party, complete with gifts and prizes.
Other musicians and bands coming to HT this Fall include jazz trio PYRENESIA FEATURING ALEX RADUS, the classically trained string trio TIME FOR THREE, folk singer-songwriter ANA EGGE, singer-songwriter and guitarist PATTY LARKIN, multi-instrumentalist CHRIS PIERCE, soul and folk singer KAT WRIGHT, indie folk band LAURA CORTESE & THE DANCE CARDS, and rock band CHRISTINE HAVRILLA & GYPSY FUZZ.
If you're itching for tributes to classics, former Bon Jovi guitarist, Matt O'Ree tackles one of the most legendary rock bands in history with MATT O'REE BAND PLAYS ZEPPELIN. Then, Tom Petty biographer Warren Zanes joins Chris Harford, Ray Kubian, and Matt Kohut in the musical celebration, REMEMBERING TOM PETTY: A NIGHT OF MUSIC AND STORIES. Joni Mitchell biographer David Yaffe joins Lauren Fox in a live performance exploring the life of the legendary singer-songwriter in THE EVOLUTION OF JONI MITCHELL.
Theatrical performances include Deborah Jean Templin, who will transform from character to character in the one-woman play based on actual diaries, letters, and interviews, UNSINKABLE WOMEN: STORIES AND SONGS FROM THE TITANIC. Fans of Broadway's Hamilton will enjoy the historically-accurate and comedic hip-hop improv ANYBODY! 
Audiences can get their fill of stand-up with SALAMI'S EAST COAST COMEDY: LIVING LEGENDS OF LAUGHTER featuring Anita Wise, Gary DeLena, and Mike Eagan, THE 50+ COMEDY TOUR featuring Paul Anthony, Rob Falcone, and Robin Fox, and DUDES INTERRUPTED featuring Brian Cichocki and Marc Kaye. For audience-interactive improv comedy, HT will present THE QUICKEST THINKERS IN COMEDY: BAKER & MARK.
Advertise with New Jersey Stage for $50-$100 per month, click here for info
---
For those who want to showcase their own talents or enjoy local music, performances, storytelling, and comedy, The Peasant Grill's Michelle Klein will host YOUR STAGE AT ANY STAGE open-mic, every third Thursday of the month at Hopewell Theater. All ages are welcome to participate!
Hopewell Theater's ongoing The Art of Living Well series features inspiring films, speakers, and interactive discussions exploring ways of cultivating serenity, meaning, and a deeper connection to one's self and the world. Screenings take place every Tuesday at 7 pm. Highlights of the upcoming series include SAVE THE SOURLANDS SOLOFEST film screening and panel discussion with the Sourland Conservancy, the short-film collection WHO WILL START ANOTHER FIRE and directors talk, FARMING IN CENTRAL JERSEY: PAST & PRESENT with an agricultural panel discussion, and more.
Finally, HT's film lineup will begin with EUROPIUM DANCETHEATER PREMIERES "365" followed by a live Q&A with director Lina Erickson. HT's Films That Made Music series, featuring rock-docs and movies about some of the most legendary pop, rock, and R&B groups of our time, kicks off with ROCKFIELD: THE STUDIO ON THE FARM. 
Hopewell Theater is located at 5 South Greenwood Avenue in Hopewell, New Jersey and online at www.HopewellTheater.com. 
---
FILMS
Europium Dancetheater Premieres "365" – Followed by Live Q & A – Friday, September 24, 2021 at 6:30pm. There are 365 days in most years and those days are saturated with struggle, heartbreak and joy. Some years more than most. In 13 segments, members of Europium Dancetheater present a provocative and intimate view of our shared experiences.The pulse of powerful and beautiful music exposes these stories without dialogue. Some might describe it as a silent movie, 365 reveals that actions speak louder than words.This premiere screening of "365" featuring the Europium Dancetheater is followed by a live Q&A with director, Linda Erickson.
---
Films That Made Music: Rockfield: The Studio On the Farm – Friday, Sept. 24 at 9:00pm; Saturday, Sept. 25 at 2:00pm; Sunday, Sept. 26, at 2:00pm. 50 years ago, deep in the Welsh countryside, two brothers were milking cows and preparing to take over the family farm – but dreamed of making music. They had the audacious idea to build a studio in their farmhouse attic and record their own tunes. Animals were kicked out of barns and musicians were moved into Nan's spare bedroom. Inadvertently, they'd launched the world's first independent residential recording studio: Rockfield. Black Sabbath, Queen, Robert Plant, Iggy Pop, Simple Minds, Oasis, The Stone Roses, Coldplay and many more made mayhem and music at Rockfield over the decades. This is a story of rock and roll dreams intertwined with a family business's fight for survival in the face of an ever-changing music landscape.
---
The Art of Living Well: "Save The Sourlands SoloFest" Film Screening and Discussion with The Sourland Conservancy – Tuesday, September 28, 2021 at 7:00pm. SAVE THE SOURLANDS SOLO FEST is a musical and educational celebration of the beauty and importance of New Jersey's Sourland Mountain region, a vital 90-square mile natural area facing an invasive insect that will kill 1 million ash trees. New Jersey musicians entertain us amid stunning landscapes, as naturalists explain the importance of the Sourlands as a source of water, a wildlife habitat, and as a defense against climate change. Join us afterward for a panel discussion of local naturalists and artists about the importance of the Sourlands and how we can save it.
---
Sublet – Thursday, October 7, 2021 at 7:00pm. Michael, a travel columnist for The New York Times, goes to Tel Aviv to write an article after suffering a tragedy. He is still grieving and the loss has caused problems between him and his husband. He just wants to do his research and go home. But when he sublets an apartment from Tomer, a young film student, he finds himself drawn into the life of the city.  Superficially, the two men couldn't be more different. Michael is an established journalist who has been with his partner for decades. He came of age during the years when AIDS was ravaging the gay community and he appreciates how much things have changed.
---
The Art of Living Well: "Hal" with Director Amy Scott and Producer Brian Morrow – Q&A with Director Amy Scott and Producer Brian Morrow. Tuesday, October 12, 2021 at 7:00pm. HAL is a long-overdue feature length documentary film celebrating the life and work of director Hal Ashby, set against a backdrop of a rapidly changing America, and an even more dramatic shift in filmmaking. While Ashby was once the toast of "New Hollywood" his rise and fall became an archetypal story of art versus industry. On camera interviews with Oscar-winning actors Lee Grant, Jane Fonda, Jon Voight, Louis Gossett Jr, Jeff Bridges, and more recall how they were empowered by Ashby and granted collaborative freedom. This screening of the film "Hal" is followed by a live/virtual Q&A with Director Amy Scott and Producer Brian Morrow.
---
Films That Made Music: Jazz on a Summer's Day – Tuesday, October 19, at 7:00pm. Filmed at the 1958 Newport Jazz Festival in Rhode Island and directed by world-renowned photographer, Bert Stern. JAZZ ON A SUMMER'S DAY features intimate performances by an all-star line-up of musical legends including Louis Armstrong, Thelonius Monk, Gerry Mulligan, Anita O'Day, Chuck Berry, Dinah Washington, and closes with a beautiful rendition of The Lord's Prayer by Mahalia Jackson at midnight to usher in Sunday morning.
---
The Art of Living Well: "Who Will Start Another Fire" with Directors Talk – Tuesday, November 2, 2021 at 7:00pm, Sunday, November 7, 2021 at 2:00pm. Who Will Start Another Fire is a collection of nine films by emerging filmmakers from underrepresented communities around the world, presented by the new distribution initiative Dedza Films. Each of these stories is personal and distinctly told, but unified by themes of rebirth and growth. The November 2 screening includes a post-film virtual Q&A featuring directors Jermaine Manigault (Not Black Enough), Emily Packer (By Way of Canarsie), & Lesley Steele (By Way of Canarsie).
---
Advertise with New Jersey Stage for $50-$100 per month, click here for info
---
The Art of Living Well: He Dreams of Giants – Tuesday, November 9, 2021 at 7:00pm. For over thirty years, Terry Gilliam has dreamed of creating a screen adaptation of Cervantes' masterpiece. When he first attempted the production in 2000, Gilliam already had the reputation of being a bit of a Quixote himself: a filmmaker whose stories of visionary dreamers raging against gigantic forces mirrored his own artistic battles with the Hollywood machine. The collapse of that infamous and ill-fated production – as documented in Lost in La Mancha – only further cemented Gilliam's reputation as an idealist chasing an impossible dream.
---
Films That Made Music: Moby Doc – Friday, November 19, 2021 at 8:00pm. Musician. DJ. Award-winning, billion-selling electronic artist. Animal rights advocate. Author. Survivor of alcoholism, drug use, and excess whose journey to sobriety took him through dark places and painful memories. Human being trying to figure out how his family and childhood impacted him, what happiness is, how to attain it — and share what he's learned.  MOBY DOC is the creative, offbeat, wry, music-filled chronicle of an eventful life examined. Filled with existential discussions, extraordinary concert footage, deep cuts from 30 years of Moby's music, unconventional narrative, quirky animation, rare clips, and thoughts from Moby's friend David Lynch, it's a vibrant, eclectic conversation between a man and his past. Moby delves into himself to share with radical honesty what he's gone through, and why the answers to some of the deepest questions we can ask as human beings may not be found in the way we're actually living.
---
The Art of Living Well: Farming in Central Jersey: Past & Present – Tuesday, November 23, 2021 at 7:00pm. Farming in the Millstone Valley: Past & Present is a 35-minute video documentary based on a historic account by Jessie Lynes Havens of Montgomery Township, and made by the Millstone Valley Preservation Coalition of Rocky Hill, in association with the Van Harlingen Historical Society of Montgomery. The video honors the history of farming in the Millstone Valley. 300 years ago, Dutch farmers began arriving in the Millstone Valley and built central New Jersey into the breadbasket of New York City. Today the farm-to-table renaissance has rejuvenated farming and inspired a vibrant restaurant scene. Learn the story behind local landmarks and farm families.
---
The Art of Living Well: Precious Guru – Tuesday, November 30, 2021 at 7:00pm. Endorsed by His Holiness The Dalai Lama, Precious Guru is a feature documentary that gives vivid insight into the life, times, and legacy of "the second Buddha": Padmasambhava, the 8th-century Indian yogi who carried Buddhism over the Himalayas into Tibet. In contrast to the first Buddha, Shakamuni, Padmasambhava was not an ascetic monk, rather more a wild man who had many lovers, as well as a magician who had a miraculous birth, subdued demons, and bound them to the dharma, the Buddhist teachings: in short, a Buddha for our times.  Beneath the tales of his fabulous exploits lies a radically relevant truth – the darker the times, the greater the potential for transformation. Revered for centuries in the Himalayan regions, Padmasambhava's influence is now a global phenomenon, carried across the world by refugee lamas, following the Chinese takeover of Tibet in 1959. He is also known as Guru Rinpoche, or 'Precious Guru'.
---
LIVE MUSIC
---
Danielia Cotton In Concert With Special Guests – Friday, September 10, 2021 at 8:00pm. Join us as we celebrate our grand reopening and four year anniversary on September 10th, featuring live music by Danielia Cotton! Cotton, a rock singer-songwriter born and raised in Hopewell, returns to the Theater for this celebratory concert alongside national recording guitarist Matt Beck and, founding member of The Spin Doctors, drummer, Aaron Comess. The event begins with a pre-show party at 6:30pm, and all attending patrons will receive a free gift, courtesy of the artists and HT.
---
Pyrenesia featuring Alex Radus – Friday, September 17, 2021 at 8:00pm. Pyrenesia is a trio of the Delaware Valley's most skilled musicians, combining original compositions with the tradition of jazz manouche. Having performed at some of the top festivals and venues in the area, Pyrenesia elevates listeners to a whimsical, melodic place. Joining Pyrenesia for this special show is long-time collaborator Alex Radus, a Lehigh and Delaware River Valley musician, whose music draws from across the American songwriting spectrum.
---
Matt O'Ree Band Plays Led Zeppelin – Saturday, September 25, 2021 at 8:00pm. One of the most legendary rock bands in history changed the world forever. But, a new day will dawn for those who stand long as the Matt O'Ree Band plays the songs of Led Zeppelin. This show is the perfect blend with one set of Zeppelin covers and one set of rockin' originals. Some exceptional moments include an instrumental version of "Out On The Tiles", Eryn's unique take on "Black Dog", and just wait until Matt breaks out the bow on "Dazed and Confused" among other songs. This particular set of players doesn't just do Zeppelin justice, they blow every crowd away with their take on the band of the century. Are you ready to get the led out?
---
Time for Three – Friday, October 1, 2021 at 8:00pm. Having graced the stages of Carnegie Hall, The Kennedy Center, and The Royal Albert hall, their inimitable and mutable style fits equally well in an intimate club setting, like Joe's Pub in New York, or Yoshi's in San Francisco. In 2016, Time For Three was featured on the famed "Night of the Proms" tour, sharing the stage with such artists as Chaka Khan and Ronan Keating, playing arenas throughout several European countries. The trio has collaborated with artists as diverse as Ben Folds, Branford Marsalis, Joshua Bell, Aoife O'Donovan, Natasha Bedingfield, and Arlo Guthrie, and have premiered original works–written for the band–from composers Chris Brubeck and Pulitzer Prize-winners Jennifer Higdon and William Bolcom. An upcoming commission project includes a work by Pulitzer Prize winning composer, Kevin Puts. They've appeared on ABC's Dancing With The Stars, and won an Emmy for "Time For Three In Concert," produced by PBS.
---
Ana Egge – Friday, October 8, 2021 at 8:00pm. Ana Egge grabbed hold of her life as a musician early on – as a teenager, she built her own guitar and moved to Austin, TX to observe, absorb, and take risks. The striking depth and unusual maturity of her singing, playing, and songwriting got her noticed. Over the ensuing years and 9 subsequent CDs, Ana has made good on her promising debut. She has worked with producers Martin Terefe, Jason Mercer, Joel Plaskett, Steve Earle, and Stewart Lerman, and recorded full albums with The Stray Birds and The Sentimentals.  Given her unconventional upraising, it's not surprising that Ana has since been plotting her own journey, confident, fearless, and uncompromising. She's been around the horn of life's experiences, having forsaken the Great Plains for Sunset Park in Brooklyn, where she lives with her wife, Amy, and their 5-year old daughter, but she's never lost touch with the free-spirited childhood and the Western landscape that formed her.
---
An Evening with Patty Larkin – Saturday, October 16, 2021 at 8:00pm. PATTY LARKIN is a visionary of sound and wonder, a real deal version of artistry made of equal parts guitar wizardry, vocals shot through with soul and inventive lyrics that ripple across the terrain of the heart. Described as "riveting" (Chicago Tribune), "hypnotic" (Entertainment Weekly), and a "drop-dead brilliant" performer (Performing Songwriter), Patty has captured audiences for over 30 years with an imagination, enchantment, and technical artistry that has redefined the boundaries of the guitar driven singer songwriter. With eleven studio albums and two live recordings under her belt, Patty mines the intersection of poetry and song with her innovative 14th release, Bird in a Cage, released on her own Road Narrows Records.
---
Remembering Tom Petty: A Night of Music and Stories – Friday, October 22, 2021 at 8:00pm. This program is a musical celebration of Tom Petty's life and music through the lens of Petty's decades-long relationship with writer and musician Warren Zanes. Zanes was eighteen when he first met Petty, and in his early fifties at the time of the legendary musician's passing. When Petty approached Zanes to write his biography, the two men had some history. Joined by a band that includes Chris Harford, Ray Kubian, and Matt Kohut, Zanes will tell stories, play some songs, and turn the stage over to his band members to make their way through Petty material from across his long and glorious career.
---
Chris Pierce – Friday, November 5, 2021 at 8:00pm. Chris Pierce developed a rare hearing disorder at age 15, but it did not deter him from re-learning everything he knew prior to his condition so that he could continue playing music. Chris has done multiple headlining tours and has also performed on stage with or opened worldwide tours for: Seal, Cold War Kids, B.B. King, Al Green, Sara Bareilles, Rodrigo y Gabriella, Jill Scott, Toots and the Maytals, Colbie Caillat, Buddy Guy, Keb'Mo', Blind Boys of Alabama, Aaron Neville, Jamie Cullum and others.  His voice and music have been heard in film and television shows including: A Million Little Things, This is Us, True Blood, Soundtrack, Crash, Rosewood, Soul Men, Brothers & Sisters, Single Ladies, Eli Stone, In Plain Sight, Dawson's Creek, Army Wives, as well as in national ad campaigns.
---
Kat Wright – Sunday, November 7, 2021 at 7:00pm. Kat Wright, whose voice is both sultry and dynamic, delicate yet powerful; gritty but highly emotive and nuanced, has been described as "a young Bonnie Raitt meets Amy Winehouse".  Add to that voice enough stage presence to tame lions, and the combination of feline femininity proves immediately enchanting. There's soul flowing in and out of her rock 'n' roll with a serpentine seduction. Some of soul music's sweet, grand dames belt, shout, seethe, and succumb, while Wright sings gently like a heartache's apology. It's funky in spots and beautiful all over. And it hurts a little … like it should. Kat Wright, Bob Wagner (guitar) and Josh Weinstein (bass) lean into their trio formation, showcasing their folky / rootsy selves, all stripped down, a triangulation of their strengths, their bareness, their imperfect humanness, their voices, their ferocious tenderness, their love of songs and singing and story.
---
Laura Cortese & The Dance Cards – Friday, November 12, 2021 at 8:00pm. Expanding on the boundaries of what an indie folk band can be, Laura Cortese & the Dance Cards take their extensive string music background, add their knowledge and appreciation of folk and roots music and incorporate an edgy pop sensibility to create their latest album, BITTER BETTER. A stunning lesson in all the ways string instruments can be played – bowed, plucked, percussively – the album showcases Cortese and multi-instrumentalist producer Sam Kassirer striving to capture the most adventurous approach to each moment. The result is an album that incorporates dance-worthy foundational grooves, synth, and loops to push the boundaries of the genre.
originally published: 07/15/2021