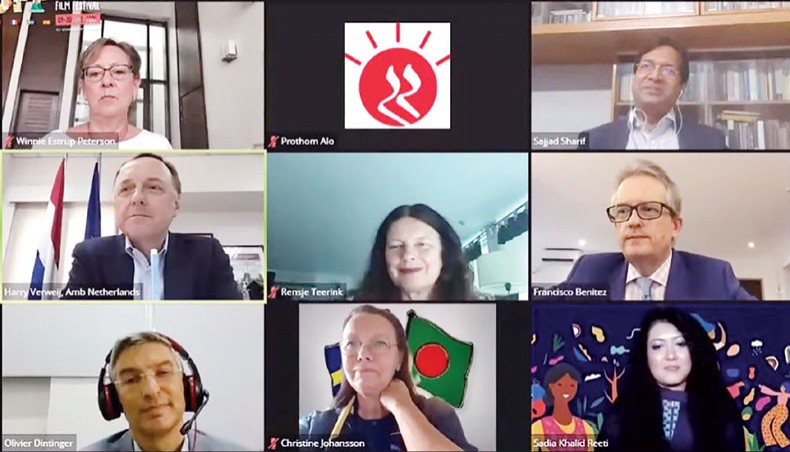 The ongoing Bangladesh European Union Film Festival featured an online event titled 'Grand Film Adda' on Tuesday.
It was streamed live on the Facebook page of Bangla daily Prothom Alo, the European Union in Bangladesh and their YouTube channels. It was also streamed on beuff.org.
European Union head of delegation to Bangladesh Rensje Teerink, Netherlands ambassador to Bangladesh Harry Verweij, Danish ambassador to Bangladesh Winnie Estrup Petersen, Spanish ambassador to Bangladesh Francisco Benitez, Alliance Francaise de Dhaka director Olivier Dintinger, deputy head of mission and charge d'affaires at Swedish embassy Christine Johansson and Prothom Alo managing editor poet Sajjad Sharif spoke at the event, which was moderated by film critic Sadia Khalid Reeti.
'I am delighted to have participated at the remarkable event. The very first time, the European Union delegation to Bangladesh is organising the Bangladesh-EU Film Festival in partnership with the EU member states that are represented in Dhaka: Germany, the Netherlands, Denmark, Italy, France, Sweden and Spain, as well as the Goethe Institute and the Alliance Française. Our goal is to bring together some of the best films from Europe and Bangladesh. We have taken this initiative on the occasion of 50 years of Bangladesh's independence as a token of our long-lasting partnership. With this festival, we aim to create a new platform for cultural exchange, enrich our diplomatic ties,' said Rensje Teerink.
The Bangladesh European Union Film Festival is being held from June 9 to June 30. It aims at enriching the cordial diplomatic relations and increase and enhance cultural exchange between the EU and Bangladesh.
The festival is screening a collection of cinematic masterpieces, including seven European feature films with Bangla subtitles, seven Bangladeshi films made by directors with fresh voices and unique perspectives, and seven short films focusing on the themes of climate change. The films are being screened at the online platform Festival Scope. Viewers in Bangladesh can watch the films for free.
Besides films, the event is featuring masterclasses, question and answer sessions with directors and a special online discussion entitled Film Adda. In these online sessions, filmmakers and producers share their filmmaking journey.
The implementing partners of BEUFF are Particip GmbH, RedOrange Media and Communications and Goopy Bagha Productions Limited.