Transit is the key for municipalities that have committed to a more sustainable future. Buses that still run on dirty diesel are by far the biggest contributor to City Hall's overall carbon footprint.
This is a lesson the City of Brampton has not learned. 
For years the City has commended increased ridership as a testament to a greener future. Brampton Transit had a steady rate of 50.4 trips per capita before the pandemic. In 2020, that rate dropped to 27.6 trips per capita. The City is planning for 52.2 trips per capita by 2025 and 66.8 trips per capita by 2030. Meanwhile, as ridership increases with the city's rapid population growth, Brampton has fallen far behind other cities that are greening their transit fleet. 
To understand how the benefits of increased transit use, which keeps more cars off the roads, can be coupled with cleaner public transportation to truly make commuting in Brampton more sustainable, the city recently got some help. 
On July 5, Brampton North MP Ruby Sahota announced $175,000 in funding through the Canadian Urban Transit Research and Innovation Consortium (CUTRIC) to support a study of Brampton Transit's efforts to reduce greenhouse gas emissions while also meeting ridership demand. 
The Transit Feasibility Study will assess which local routes will be suitable for battery electric buses (BEBs) and which will require a fuel cell electric bus such as a hydrogen cell. The City of Brampton told The Pointer that this study must be completed before implementation can be planned. 
While it is a positive step toward sustainable transit in Brampton, it comes with a major caveat.
There are numerous transit projects underway in Brampton. There is the construction of a new transit maintenance facility that will be located on Hwy 50 at Cadetta Road between Rutherford and Major Mackenzie. An initial $128 million in funding was approved in 2021 for this project that is anticipated to be completed by 2024. The new facility will be built to accommodate the future installation of infrastructure related to electric buses; however, this is not part of the initial funding. 
Brampton also has its BRT Zum bus system to maintain. Zum has a fleet of 101 hybrid diesel-electric buses that connect Brampton to nearby communities including Vaughan, Malton and other parts of Mississauga. But these vehicles still run primarily on diesel and are only eight to ten-percent more fuel efficient than conventional diesel buses, far from the sustainability of battery electric buses.
The question of how to extend the Hurontario LRT past Steeles Avenue, where it will turn around under the current plan, has yet to be answered. An extension into downtown with a tunnel under the section that would run beneath the Etobicoke Creek watershed was projected in 2019 to cost as much as $1.7 billion (this price would be significantly higher by the time construction begins, if the option is eventually approved) but Brampton has not allocated a single cent of funding under Mayor Patrick Brown's refusal to expand the City budget since his election. 
Brown's politically motivated refusal to pay for needed infrastructure won't allow projects in the city to move forward and will eventually mean the bill that comes due when all the investments have to be made could cripple many taxpayers, especially seniors. 
The 2022 budget has set aside $17 million for service expansion of the Chinguacousy corridor of the Zum system. 
In addition, $13.8 million is set aside for transit refurbishments. This is a miniscule amount if the City wants to begin the transition to an electric bus fleet. 
According to the City of Mississauga, A BEB costs about $1.25 million (between the prices of a hybrid and a hydrogen fuel cell bus). Brampton's transit fleet consists of 450 buses (regular and Zum). This puts the cost of purchasing BEBs at just over $550 million. This figure does not even include costs associated with the construction of the infrastructure needed to support a zero emissions bus fleet such as charging stations.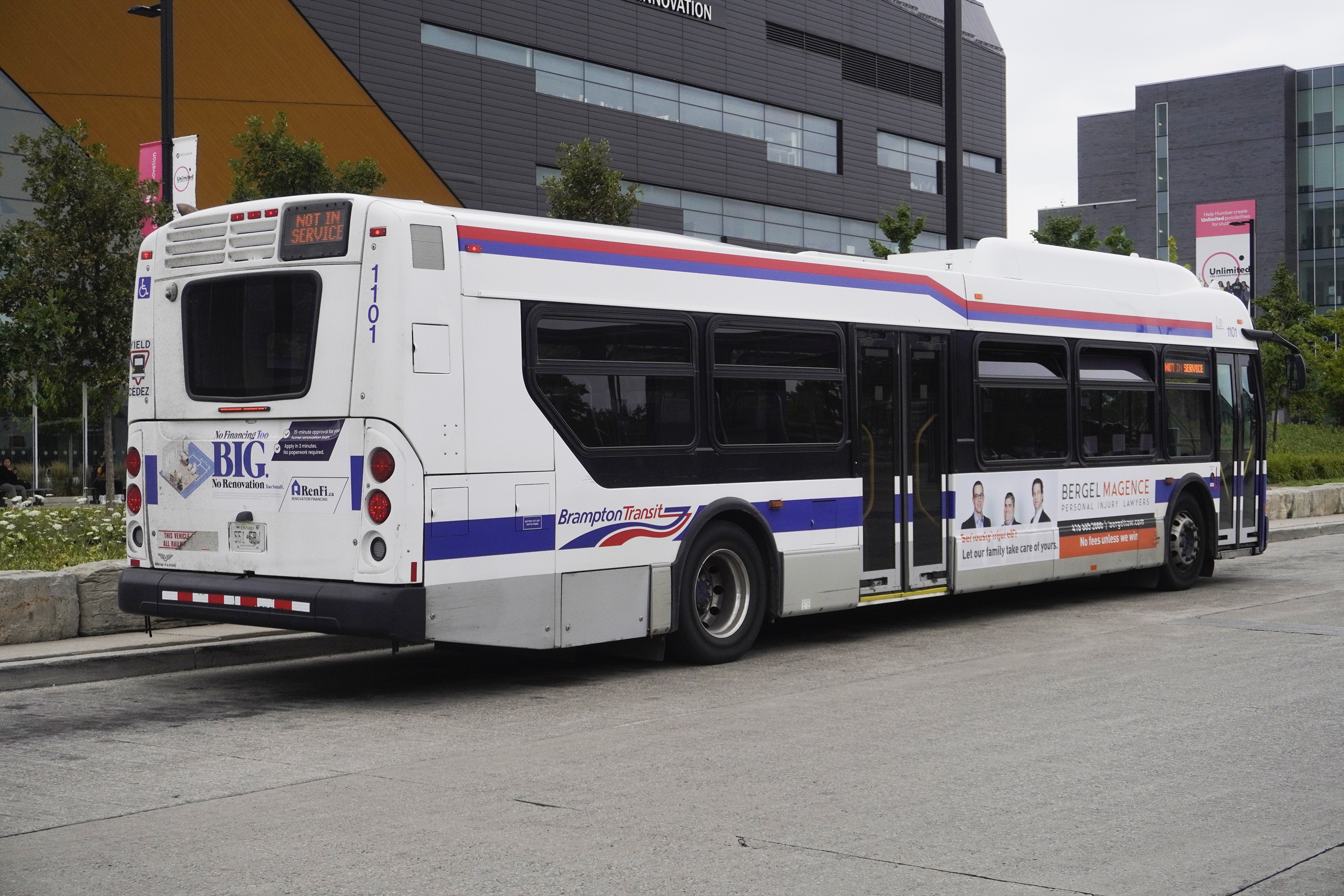 Transitioning Brampton Transit's bus fleet from diesel to electric will cost the City millions of dollars. 
(Alexis Wright/The Pointer)
The City of Brampton could receive significant assistance as it continues to work on an agreement with the Canada Infrastructure Bank for up to $400 million to support the purchase of up to 450 Zero Emissions Buses (ZEBs) which do not have to be fully battery electric; they can use hydrogen cells, or hybrid hydrogen-electric technology.
The City told The Pointer it currently has no other funding applications in the pipeline related to expanding green transit infrastructure. Any grant application will require the City to come up with its own local share to support any plan to green the fleet, after years of consecutive tax freezes forced by Brown. Brampton has been left with few financial options to fund the local share for critical projects.
The City says that the study being done with the help of Ottawa, which is being carried out by CUTRIC, is a necessary first step in the transition to a green fleet. The study will allow the City to apply for capital funding to assist in the expensive purchase of ZEBs to transition the entire fleet away from the almost exclusive reliance on diesel the current buses run on.
Brown repeatedly made claims while campaigning for the Conservative Party of Canada leadership, before he was disqualified from the race, about Brampton having one of the first "fully electrified transit systems" in Canada. These statements were blatantly misleading. Brampton is far behind other cities that have committed funding to transition their bus fleets away from diesel.
An electrified system in the city is years away. First Brampton will have to begin allocating funds to support the transition to an electric fleet. Then, before the buses can be deployed it will take time for the City to determine where charging infrastructure will be necessary along routes, if it moves to an on-demand system, while charging and maintenance infrastructure for ZEBs will have to be created. It's possible that land will have to be acquired, especially if on-route charging stations are needed.
Many cities across Canada, including Mississauga, have already approved significant funding that will move them closer to a carbon-free transit system. Brampton has done little in comparison. 
But moves by Ottawa, first to launch its own electric bus pilot project in Brampton last year (the federal government provided eight BEBs to be tested in the city) and now its help with the Transit Feasibility Study, are pushing the city to join the green transit movement, despite Brown's unwillingness to pay for the transition.
The need to undertake a Network Electrification Feasibility Analysis was outlined in both Brampton's Community Energy and Emissions Reduction Plan (CEERP) and the Grow Green Environmental Master Plan approved several years ago. This means that the need to complete the current study has been known for at least five years, and yet the City is only now starting with the push from the federal government.
This is not a surprise when looking at the City of Brampton's overall mismanagement of its own environmental policies.
Despite declaring a climate emergency in June 2019, the City has done very little to work toward climate mitigation efforts. The City's initial Grow Green Environmental Master Plan was published in 2014. At the time of the plan's first update in 2020, the City was failing to reach the majority of its goals. It was only on track for three of 20. 
According to CEERP, transportation accounted for 59 percent of Brampton's emissions by sector in 2016. In addition, gasoline and diesel accounted for 59 percent of the City's emissions by utility in the same year.
This shows how important electrifying the transit fleet is if Brampton wants to meet its own emissions reduction targets. 
The City is expected to grow to a population of 900,000 by 2041. In order to reduce community wide emissions by 50 percent from 2016 levels by the same year, and a reduction of 80 percent by 2050, Brampton needs to start seriously investing in a green transit system. 
---
Email: [email protected]
Twitter: @rachelnadia_
---
COVID-19 is impacting all Canadians. At a time when vital public information is needed by everyone, The Pointer has taken down our paywall on all stories relating to the pandemic and those of public interest to ensure every resident of Brampton and Mississauga has access to the facts. For those who are able, we encourage you to consider a subscription. This will help us report on important public interest issues the community needs to know about now more than ever. You can register for a 30-day free trial HERE. Thereafter, The Pointer will charge $10 a month and you can cancel any time right on the website. Thank you