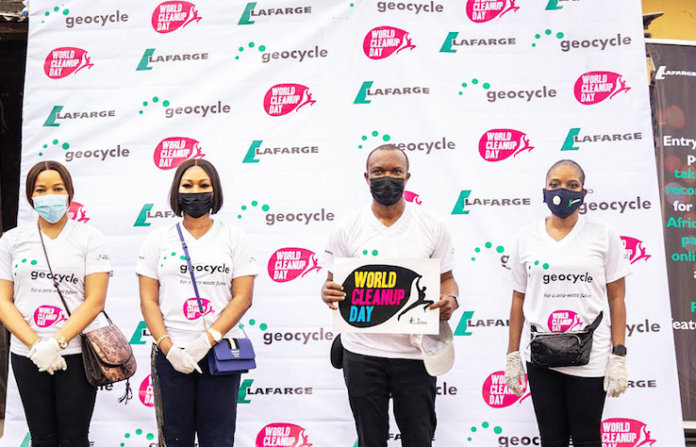 Development
The global response to the Coronavirus pandemic in 2020 gave rise to renewed ambitions towards Environmental, Social and Governance. Lafarge Africa has continued to stay resilient in the face of new realities with a commitment to 'build progress for people and planet' in unprecedented times and beyond. The company is focused on further entrenching sustainability at the core of its business while contributing positively to ameliorating the impact of the pandemic on its communities and stakeholders. Kunle Aderinokun reports
In its recently released Annual Sustainability Report for 2020, the company gave details of its economic, social and environmental activities and impacts while also detailing its social and environmental policies aimed at creating a safer planet.
In 2020, Lafarge Africa's commitment to the social, human and economic wellbeing of its host communities was put to test. Despite the coronavirus pandemic impacting businesses globally, Lafarge supported its communities with over N1 billion disbursed to help provide relief materials and medical equipment for communities. This swift and decisive action paved the way for the outstanding performance recorded in 2020. Lafarge recorded sales revenue grew by 8.3per cent to N230.6 billion in 2020, while earnings before interest and tax (EBIT) climbed 30.8 per cent to N 45.7 billion.
Speaking during the presentation of the Facts Behind the Sustainability Report Session of the company at the Nigerian Exchange Limited, Chairman, Lafarge Africa Plc, Adebode Adefioye, stated that the challenges posed by the coronavirus pandemic highlighted and brings into focus the importance of a robust environmental, social and governance system for investors, governments and communities alike.
"Despite an unprecedented turn of events and a challenging year, Lafarge Africa was able to demonstrate resilience through the successful implementation of several initiatives such as our Health, Cost and Cash action plan," Adefioye noted, pointing out that the company's health and safety action enabled it to achieve its economic objectives, while prioritising the health and safety of its people, suppliers and communities as part of the mitigating strategies.
"Our journey has been one of resilience, integrity and sustainability, as we strive to meet the needs of customers, while adapting to the changing economic situations and the growing demand for sustainable practices in the constructing industry," said Country CEO of Lafarge Africa Plc, Khaled El Dokani. "We also accelerated the Business Resilience Team and immediately initiated daily meetings to agree on our response to the growing pandemic. With these in place, we were able to prioritise our people and operations and close out the year with a remarkable performance," he added.
In the same vein, Head, Sustainable Development and Brand, Titilope Oguntuga, reiterated: "As leaders in the sustainable construction space, we continue to develop and maintain strategic partnerships, employ best practices and industry trends in the global response to climate change."
However, a crucial component of the sustainability strategy is the expansion of the company's environmental, social and governance (ESG) priorities of global acceleration towards achieving net-zero and a more inclusive future. Lafarge has adopted a holistic approach on its journey towards net-zero through setting and monitoring country-specific targets across all its pillars; investing in and deploying innovative green solutions such as the use of alternative fuels for renewable energy while also conducting stakeholder-centric initiatives such as the Maiganga Wetland project positively impacting the people and the environment.
To substantiate the path to net-zero, Lafarge Africa's total specific CO2 emissions for the year 2020 was 583 kilogrammes per tonne of cementitious material (kg/ tonnes), substantial progress that sets a solid base for the Group's ambition to achieve the targets mapped out in its Net Zero RoadMap of achieving 550Kg net CO2/tonne of cementitious material by 2022.
To enhance environmentally sustainable management of scarce water resources, Lafarge Africa has installed water flow meters at its plants, which measure its water consumption, withdrawal and discharge rates. The company's freshwater withdrawal in 2020 was 201L/tonne for cement and 228L/M3 for ready mix.
In line with its group's environmental and biodiversity directives, Lafarge Africa remained committed to implementing sustainable practices that mitigate the negative impacts of its operation on the environment. Integrated into its yearly extraction plan, is a 100 per cent rehabilitation target of all seven of its quarry sites to minimise any harm its operations may pose to the ecosystem.
So far, about 933 hectares (ha) of land has been rehabilitated.
Deploying eco-friendly and energy-efficient solutions the company's investments are showing measurable returns that have a direct positive impact on its net-zero ambitions.
The Holcim Group aims at reusing 80 million tonnes of waste annually to generate power. In 2020, Lafarge Africa commissioned a new waste treatment and a co-processing facility designed to allow shredding and blending of various solid wastes before they are co-processed in the cement kiln. The company has invested over 10million Swiss Franc in alternative fuel projects over the past 4 years, through facilities used to mop up societal waste, thereby positively impacting the environment. In 2020 alone, Lafarge utilised 71,029 tonnes of waste, which include incinerated ash and discarded car tyres in its operations at its Ewekoro, Sagamu and Ashaka plants. Currently, 9 per cent of the company's energy is derived from alternative fuels such as palm kernel shells, cashew shells, sawdust, rice husk etc.
This has been a massive job creation platform by the company as local suppliers accounted for over 35,000 tonnes of biomass supplied to Lafarge plants in 2020 and a total of 3,000 jobs were thus generated in the host communities. In its quest to protect the environment, Lafarge joined forces with the Food and Beverage Recycling Alliance (FBRA) of Nigeria and regulatory agencies like NAFDAC, as well as pharmaceutical companies. Through these partnerships, Lafarge Africa gains easy access to industrial wastes that it recycles for fuel.
The year 2020 tested Lafarge Africa's oft-repeated commitment to the social, human and economic resilience of its host communities. The company committed N1.2 billion to social investments. This included interventions to curtail the spread of the new coronavirus and to reduce the social and economic burdens created by the restrictions on movement imposed by the government to control the pandemic.
Lafarge's stellar result from its investments in sustainability is an affirmation of the company's commitment to the environment. It has been over 60 years since Lafarge began its operations in Nigeria. As Nigeria's leading innovative and sustainable building solutions provider, it has continuously transformed and improved its products and services, market reach, achievements and value-add to its stakeholders.