Source: Taubman College
Dolores Perales — a first-generation college student — grew up in southwest Detroit surrounded by vacant land, blighted property, illegal dumping, and noise and air pollution. "I didn't start putting the pieces together until I got older, that these environmental factors impact how I live and the quality of my life," says Perales, who has severe asthma.
In high school, she began volunteering with Cadillac Urban Gardens, part of the Southwest Detroit Environmental Vision Project. She continued working there throughout college and now is the gardens' environmental sustainability specialist — a full-time job on top of pursuing a dual master's in urban and regional planning and environment and sustainability. She expects to graduate in 2022.
With Sarah Clark, M.U.P. '15, Perales co-manages SDEV's farms and orchard, including coordinating volunteers and working with the community to teach sustainability.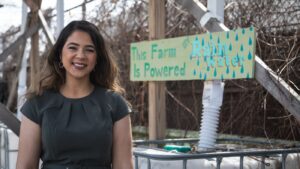 Clark and other Taubman College alumni inspired Perales' career path and introduced her to U-M; now Perales is doing the same for the youth and interns she mentors.
"Environmental factors tend to be left out of the planning process, as well as the needs and wants of community — especially frontline communities and communities of color like mine — so I am going into this field to make sustainable, equitable change," says Perales.
"Having that deeper connection with interns because of the level playing field of our backgrounds shows them what is possible. And it reminds me that I need to work and study hard so I can continue to navigate these spaces in a way that makes life better for them in the future."