Nearly 20% of intact forest landscapes overlap with extractive industries, according to research conducted by the Wildlife Conservation Society. 
According to the study, the total area of overlap is 376,449 square miles, about the size of Egypt. 
Only 20% of tropical forests can be considered 'intact,' but those areas store around 40% of above-ground carbon. These forests are also home to politically and economically marginalised Indigenous Peoples. 
Intact forests are globally important for conserving biodiversity, with these landscapes representing some of the last places on Earth that still contain species at near-natural levels of abundance. 
Despite their importance, forests are declining at an alarming rate, with over 7% of their total area lost between 2000 and 2013, with mining, oil and gas industries largely to blame. 
Central Africa's forests had the highest overlap with extractive concessions at 26%.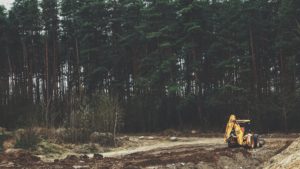 Dr Hedley Grantham, lead author of the study, said: 'Many of these extractive projects are still in the early stages. While this could imply a significant future threat to intact forest landscapes, it also means there is an opportunity to mitigate potential impacts before they occur.'
The authors recommend that companies incorporate avoidance planning in the design phase of extractive projects, they also encourage governments not to allow extractive industries to destroy intact forest landscapes.
In related news, a new £10m fund will help to restore nature and tackle biodiversity loss in Scotland.
In the first round of funding, £10m will support a mix of urban and rural-focused projects, such as improving green space, planting wildlife corridors and implementing natural flood management.
Half of the funding will go directly to local authorities, they will be required to submit details of how funding has been distributed to ensure positive outcomes are achieved. 
Photo by Sebastian Grochowicz