She is not the holder of a university degree but Annette Jaundoo, 60, manages Family Awareness Consciousness Togetherness (FACT), a local non-governmental organisation (NGOs) that caters to the vulnerable population in Corriverton.
"Donors were pushing me to do a Masters' Degree in management and administration. If I had done it, I believe I would've been a little selfish because I would have had to look after me," the FACT Executive Director said.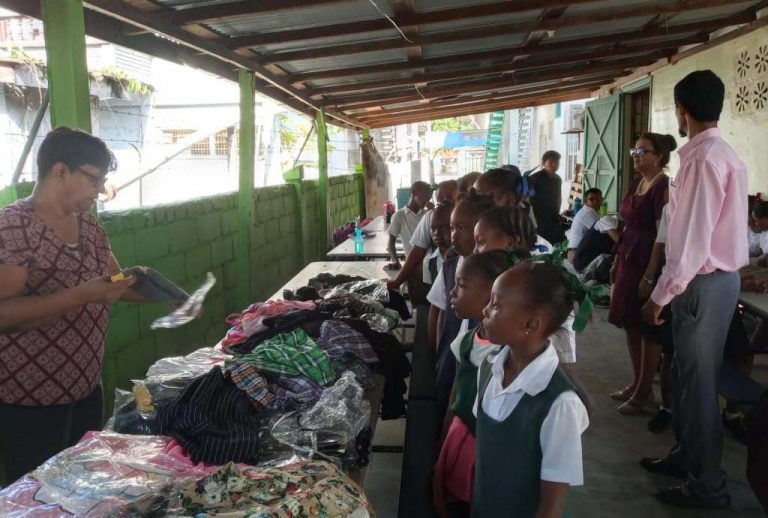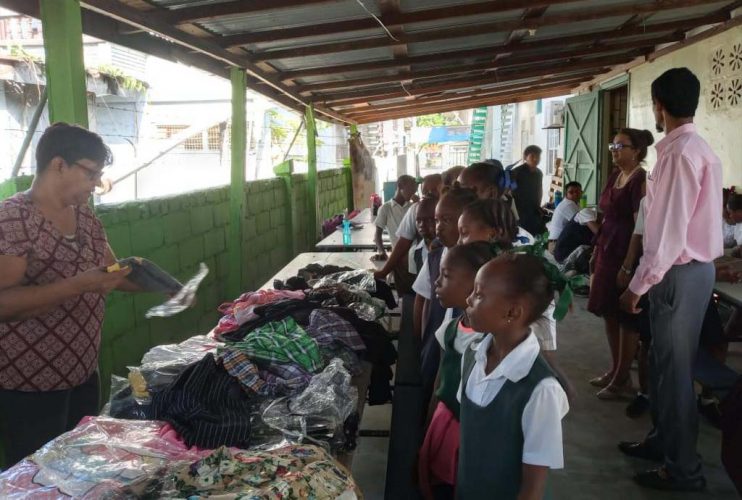 Jaundoo has completed several on-the-job training programmes in administration and management run by the United States Agency for International Development (USAID) and other donor organisations. She wondered, "If I had gone to university or teachers' training college, would I have had the ability to write up project proposals, do financial management and SWOT [Strength, Weaknesses, Opportunities and Threats] analysis, still be supportive of my staff and work from the heart? Most of my counterparts in similar organisations are university graduates."
Jaundoo joined FACT in 2003 and took over its management in 2006 from her sister, Sunita Jaundoo-Frank, who, along with seven residents of Corriverton, founded the NGO in 2000. It was founded after Jaundoo-Frank, then president of the Anglican youth group in Corriverton, represented the group at a Ministry of Health meeting to raise awareness on HIV/AIDS. With the motto, 'Inspiring and Sustaining Families', it is the only known functioning social NGO in the border town.
"They fund-raised to carry out their activities, went on television programmes, met with other church and youth groups and any medium that was available to raise awareness," Jaundoo related. "With assistance from the National AIDS Programme Secretariat (NAPS), they engaged people living risky lives, especially sex workers, and the lesbian, bisexual, gay, transgender and intersex (LBGTI) communities in their awareness campaigns and shared condoms in bars and brothels."
According to Jaundoo, following a newspaper article in 2005, Jaundoo-Frank was advised to apply to USAID for a grant to raise awareness on HIV/AIDS in Corriverton. That year the NGO received $1 million and from 2005 to 2015, more funds in varying sums until the incidence of HIV/AIDS started to decrease. During that period, funding was also received from the United Nations Children's Fund, United Nations Population Fund, United Nations Development Programme (UNDP), Food For the Poor and other donors.
Support groups
FACT has worked with people living with HIV, the LGBTI population, orphans and vulnerable children (OVC), youths, teen mothers, men and boys on awareness through support groups and institutions like the Skeldon Hospital, faith-based groups, schools, and police among others.
With recent funding from the UNDP, it has continued working and networking with support groups including caregivers to build their capacity to fight stigma and discrimination.
At present, FACT is awaiting approval of a programme from NAPS to train 10 trainers who will work with the vulnerable population including migrants and loggers.
Apart from raising awareness, FACT expanded its HIV programme to testing and counselling, referrals to treatment sites, and care and support, Jaundoo said.
Because of myths about how HIV is transmitted, FACT provided home-based care to infected people whose families did not want to care for them. However, the number of people with HIV who FACT worked with since its inception has decreased significantly, Jaundoo said. "Some died, some migrated, and the viral loads of some have been suppressed and [they] are not considered at risk. They can take care of themselves and we use them as mentors to help others," she added.
"In 2010 or 2011, we had seven OVC who were infected and who came to us for support… Those children are youths who are now very active sexually. Most of them don't disclose their status and are having unprotected sex. Those are the people I worry about a lot."
When, in 2015 the US President's Emergency Plan for AIDS Relief ceased funding in all the regions except Region Four, she said, FACT never stopped working. "We continued to work with a limited scope with support from NAPS. Until COVID-19 struck, our doors were always open because of our sustainability ventures. We still do testing and counselling," she continued.
"We still have family counsellors and we work very closely with the Ministry of Human Services so if there are issues we cannot handle, we refer you and we walk you through the process."
Training
In recent years, under Jaundoo's leadership, FACT conducted capacity building workshops for some 2,000 young people in entrepreneurship and skills training with support from the Ministry of Education, USAID, UNICEF and other donors.
In early 2020, through the Basic Life and Employability Skills programme, a Ministry of Education-USAID funded project, FACT worked with unemployed youths, including teenage mothers, to equip them in a number of areas including carpentry, masonry, driving and basic computer skills.
From these programmes, Jaundoo said, "We were able to link them to the Small Business Bureau, the British and Australian High Commissioners, to enable them to get funding to do their own businesses. Most obtained grant funding in the sum of $200,000 and $500,000."
Thirty-two young men who completed this programme either joined the Guyana Defence Force or the Guyana Police Force. One went to the Guyana School of Agriculture, continued at the University of Guyana and is now working with the Ministry of Agriculture.
Formative years
Initially, Jaundoo was not interested in being part of FACT because she had vowed to look after her children as they grew. She is the mother of two.
Her mother had eight children from three broken marriages, who grew up with their grandmother because her mother had to work. She had two other aunts who also had broken marriages and her grandmother also looked after their children.
"Three sets of cousins growing up together. So we did community work for ourselves. We had hand-me-downs and we shared," she said.
Her grandmother was a member of the Seventh-Day Adventist Church whose house was always full. "On Saturdays, the extended family, neighbours, friends, anybody who came to church could always come and get food. We were taught at an early age to share, to look out for each other and to treat people well. When I eventually saw what my sister and FACT were doing, I felt compelled to be a part of it. This is what my grandmother, who died in 2012, would have wanted," she said.
Jaundoo was educated at Eversham Primary, successfully wrote the common entrance and the Preliminary Certificate examinations but could not attend secondary school because of unaffordability on her mother and grandmother's part. She wrote the College of Preceptors examinations and got nine subjects.
"I didn't work because one of my sisters, who was away at law school, left three children and I had to take care of them with my grandmother," she related. "My aunt left another three with my grandmother and I had to help, too. Eventually, the children joined their parents. I ran my mother's business after she started going to America every six months. Everyone in the family went, except me and my brother."
Sustainability ventures
Under Jaundoo's leadership, FACT operates a kitchen, a diner, a conference hall, a daycare and playschool and a beauty salon, all sustainability projects which helped to fund, among other things, its children's activities prior to the COVID-19 period.
For several years, Jaundoo led a back-to-school programme which helped to equip children with school supplies until the advent of COVID-19. FACT also held annual Christmas parties for children, as well as mother's day and father's day activities. It also ran an after-school programme catering for over 100 children who were given a meal and some provided with transportation to their homes.
With the onset of COVID-19, Jaundoo said, FACT provided $7,000 in groceries for 52 families whose children had attended the after-school programme. Some families were also assisted with planting organic kitchen gardens. "We bought the plants and watering cans and shared to families," she said. "We helped them to sell their produce. Our kitchen bought from them."
The kitchen, the only sustainable project in operation now, began in 2016 with a take-away service and selling snacks from a glass case. A USAID contractor working with NGOs saw what was being done and asked what FACT would do if given US$7,000.
"I pushed the kitchen door open and said we needed a new gas stove, new fridge and cupboards needed repairing," Jaundoo said. "I showed her the fireside we were cooking on for the after-school programme. I told her, 'If you can help us to renovate the kitchen we would prepare better meals for the children and do catering to sustain our activity'."
FACT received US$10,000 as grant funding to upgrade its kitchen after which it started catering for local businesses, individuals, banks, schools and others.
At present it is catering for COVID-19 frontline workers in Corriverton from Monday to Friday. "It may look little but that is what has kept FACT functioning. If we hadn't that kitchen we would have been closed like other NGOs. It pays the cleaner. It pays two persons in the kitchen, two persons in the snackette, and all our utility bills. It pays the receptionist and the counsellor/tester. It gives all the staff lunch every day," she said.
In 2019, following another workshop with Caribbean NGOs to build capacity, FACT received US$20,000 to extend its kitchen and takeaway service to include a diner where people could sit, relax and enjoy a meal. The diner opened in January 2020, but then the coronavirus came.
In relation to the playschool and daycare, FACT is paying half the rent for the space so as not to lose it. "FACT was unable to pay the half month rent from January to July this year," she revealed. "A sister who reached out to me, covered the rent. That's what happens when you pray and believe. I don't ask God for money. I ask Him to open doors and He does it. I count the blessings and thank Him for what He has done for me and my FACT family. We had four people employed at the daycare and playschool. Two are doing online training provided by the government."
An active layman in her church, Jaundoo said, "I think this is what God wants me to do and I am an instrument to His cause."
In relation to the conference hall, it is mostly free. "For us, it is not about the money. It is about networking and building relationships. If we have an activity, those same people would provide the human resources. Anyone can hold an activity for free if it benefits the community," she said.
Recalling a conversation with one of the USAID officials working with NGOs to undertake sustainability projects, Jaundoo quoted the official as saying if FACT was to be sustainable, her staff had to have sustainability plans of their own.
At that time, the government was giving out house lots. Of her 26 staff members, 19 applied for house lots, got them and built their own homes. Some got loans from the bank and ran their own sustainability projects like shops, taxis, crop and poultry farming, drying fish and making food seasonings. "Some no longer work with the organisation but they still volunteer," she said.
FACT now buys stock from its former members for its kitchen.
Initially her husband, who runs their family business, was skeptical about her leading FACT, Jaundoo said, but he supported her idea of sustainability. He quit his job at the bank and extended their business.
"If we had not done that I could not have been working at FACT without being paid," she mused.
Jaundoo is now looking forward to retirement.  "We have people who can run it," she said. "I would still be around, maybe, on the board of directors."