Even in Boston's best bars, sustainability is an uphill battle, according to Michael Ciaccio. The local mixologist, who heads up the beverage program at Woods Hill Pier 4, believes that bartenders still need to fight the good, eco-friendly fight—even though they're inevitably going to lose the war.
"Bars are inherently wasteful," Ciaccio says. "You're swimming against a never-ending tide, but sustainability is about keeping swimming. The island is on the horizon, and you're never gonna get there, but you've got to keep going."
Unlike the glass rims of your favorite cocktail, the veteran bartender isn't sugarcoating anything. As soon as we sat down at this Seaport spot, he rapidly rattled off some of the many, innately inefficient barriers that bars face.
As he pointedly points out: "Limes will never be local to Boston, and there is no bar without limes. The energy consumption of keeping, producing and serving cold and hot beverages is huge—never mind the carbon footprint on the (alcohols) we pedal in alone (tequila has to come from Mexico and Champagne has to come from France)… It takes 10 gallons of water to make a gallon of beer, and you use so much electricity to make the ice to chill the drink. Then you've got to heat the water to rinse the tools a thousand times a night. It's a large, wasteful machine." 
Limes will never be local to Boston, and there is no bar without limes.
However, Ciaccio isn't ready to throw in his swizzle stick in defeat. He explains that he finds solace in making even the most minimal of efforts to still have an impact. 
"The point of sustainability is to keep a mindset in your approach to the business," he says. "You identify areas of waste, you repurpose, you collaborate and you reexamine your methods."
Amongst his ways to maintain the spirit of sustainability while slinging craft drinks at the popular waterfront eatery: putting perfectly viable prep scraps to good use. 
"My team here is fortunate enough to have an owner and a kitchen that already has local food supply written into their DNA—never mind their own farm to source food from and send our compost to," he says. "We were already set up to build on that mindset of sustainability."
Coordinating with the kitchen, the bar here is able to repurpose food remains to flavor its drinks.
For example, Ciaccio explains how they prepare the Seaport spot's most popular summer cocktail, the watermelon margarita, with unused bits of fruit, rather than tossing them: "We make them by taking the scrap from Chef Charlie (Foster's) watermelon salad. They take the watermelons and prep them by cutting out these beautiful cubes for the presentation of this watermelon salad, but then there's an amount of that watermelon meat that they don't use because it doesn't fit that shape. They save it all and it comes to me—red and yellow—and I puree it, strain out the pulp and make it into a watermelon syrup. The red goes into the watermelon margarita and the yellow goes into our frozen rose and sweetens that, so it's essentially free flavoring."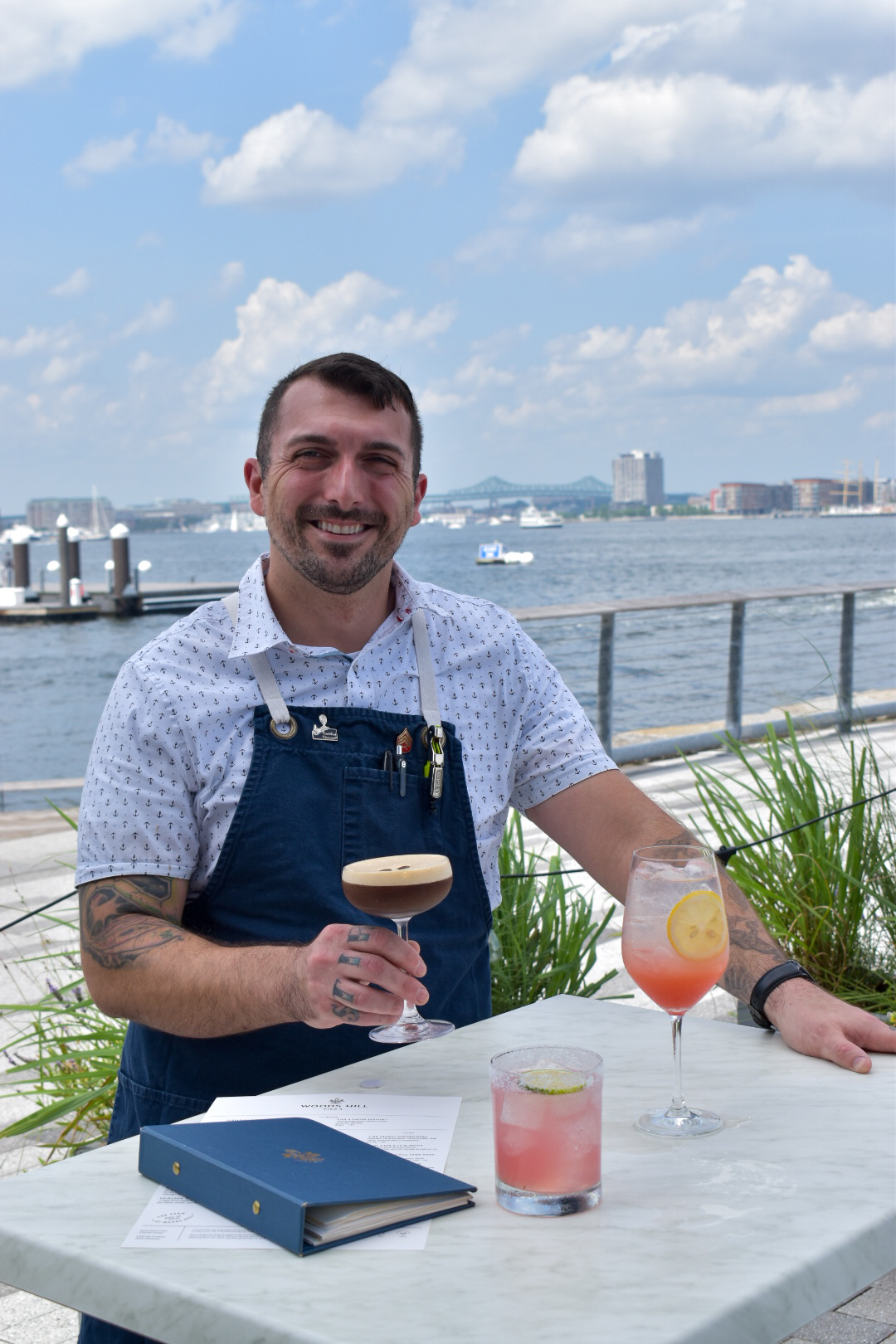 Using traditional food preservation techniques (like making vinegar-laced shrubs) and modern contraptions (like a dehydrator) Ciaccio is also able to extend the shelf life of ingredients to prevent unnecessary waste.
For instance, that refreshingly fruity Strawberry Spritz folks have been slurping down at Woods Hill Pier 4 all this summer actually features a special house-made ingredient that captures the essence of strawberries and freezes it in time. 
He explains: "It's made with strawberry shrub that my co-bar manager out in Concord, Mitch Marsman, made with his team. They did that with a single shipment of strawberries from Hutchins Farm out in Concord. When they're at the peak of their season and start really sugaring and shining, he gets a giant shipment of them, processes them all into shrub, and that shrub will last us a year—unless it gets sold out—because it won't go bad. Right now, we're using it in an Aperol Spritz and he's using it in a margarita. The pulp that was made during the process of making that shrub our pastry chef has put into desserts."
And Ciaccio keeps an ever-watching eye on how they're preparing cocktails to see how they can maximize their yields. 
The island is on the horizon, and you're never gonna get there, but you've got to keep going.
"It's important to reexamine your methods when you see large volumes of things that are ending up in the trash and see if there's a better way that would produce a better yield," Ciaccio says.
The barman cites Woods Hill Pier 4's prized espresso martini as an example, explaining: "We make our own coffee liqueur for our espresso martini. When I first came on, we were grinding the coffee beans to make the infusion… But when you grind coffee beans, you get this large mass of organic material that soaks up the liquid. So say if we did a four-liter batch of coffee liqueur, we ended up with three liters of our final product. We figured out that if we didn't grind the coffee beans and instead left them whole, the alcohol is still going to infuse with it. It just needs a little more time, so we switched it from a two-hour infusion to a two-day infusion and we ended up with three-quarters of a liter more in volume, which translates to like 50 cocktails."
While Ciaccio recognizes that he's obviously producing the same volume of organic waste, it's at least producing a higher yield of delicious java-flavored drinks, so it's using ingredients with more efficiency. 
"And that's good for the concept of sustainability and also the sustainability of the restaurant and the bottom line and the business," he says.