Sudibyo Wiradji (The Jakarta Post)

Jakarta   ●  
Fri, December 10, 2021

2021-12-10
07:00
0
637689cdfb31fff4298fa997bdedb06b
4
Companies
HSBC,finance,bank
Free

Expectations are high to see tangible actions further to the COP26 conference, and funding for decarbonization and transition to net-zero is a major challenge for many countries. HSBC, supported by its international network, is poised to lead the transition and mobilize change.
To get back on track to limit temperature increases to 1.5 degrees Celsius above pre-industrial levels will require enormous financing from the financial system.
Globally, the world needs between USD 100 to USD 150 trillion in external finance for the transformation of our carbon-intensive economies over the next three decades. While in Asia, the financing gap to mitigate climate change is estimated at around USD 66 trillion over the same period.
Francois de Maricourt, president director of PT Bank HSBC Indonesia said: "Partnership is key to meeting this enormous financing gap. And climate change needs borderless solutions and action."
Maricourt pointed out that the COP26 was a historic opportunity that brought together the public and private sectors to mobilize the global transition to net-zero.
"As a bank, we can help, and the most significant contribution we can make is supporting our clients to decarbonize and transition through financing and investment, assist heavy-emitting companies in taking actions to become more environmentally sustainable over time," he explained in a written interview recently.
 "We support our customers on their journey to a low-carbon economy by financing the transformation of businesses and infrastructure,"
He emphasized that finance has a critical role to play in building a more sustainable, healthy and resilient future.
"We scale the circular economy while unlocking new and better growth opportunities for businesses of all sizes as they transition."
Explaining what has prompted HSBC to lead the transition to a sustainable future, Maricourt said: "We recognize the threat climate change poses to global economic, social and geopolitical stability, and that every organization must play its part to help secure the future of our planet."
He added that to avoid the worst impacts of climate change, global greenhouse emissions needed to be cut by 45 percent by 2030 and the world needed to achieve net-zero by 2050, according to the UN Intergovernmental Panel on Climate Change.
With global climate change becoming one of the urgent global issues that need to be addressed, HSBC, which is part of the Taskforce on Nature-related Financial Disclosures, has reinforced its presence in Asia and Indonesia, with the bank giving priority to helping customers transition, scaling up new technologies and building global partnerships to create common standards.
Maricourt said HSBC expected to provide USD1 trillion in sustainable finance and investments globally by 2030 to help its customers transition. 
 "That is part of our commitment to becoming a net-zero bank by 2050, which includes the emissions of the companies we finance, as well as our own operations and supply chain," he said.
Infrastructure projects in the region face varying degrees of barriers to bankability, and private capital can play a unique role in bridging this gap, according to Maricourt.
Regionally, HSCB is partnering with Temasek to launch a USD150 million seed-funded debt financing platform dedicated to sustainable infrastructure projects with an initial focus on Southeast Asia and the support of the Asian Development Bank (ADB).
"This platform seeks to achieve $1 billion in additional investment," Maricourt said.
He added that its initial target through this platform would be to reduce greenhouse-gas emissions by funding renewable energy generation and storage, water and waste treatment, and sustainable transport solutions, "but we expect to broaden the scope as the platform matures".
Maricourt said a meaningful portion of the platform's loan portfolio would target marginally bankable, sustainable infrastructure projects, providing project development expertise, technical assistance and blended finance solutions where needed.
As part of the bank's commitment to unlocking next-generation climate solutions, HSBC recently launched a global philanthropic program to donate USD 100 million to scale climate innovation ventures, renewable energy and nature-based solutions between now and 2025, in partnership with the World Resources Institute (WRI) and World Wide Fund for Nature (WWF).
"We are building one of the world's largest natural capital managers – to mainstream natural capital as an asset class and invest in activities that preserve, protect and enhance nature over the long-term. For this purpose, we have created a joint venture called HSBC Pollination Climate Asset Management," Maricourt said.
HSBC has also set up a dedicated unit and tailored proposition to support CleanTech innovation companies and targets USD 100 million in investment in CleanTech within the bank's technology venture debt fund.
The bank is also helping transform sustainable infrastructure into a global asset class , leading the "Finance to Accelerate the Sustainable Transition-Infrastructure" (FAST-Infra) initiative to drive investment in sustainable infrastructure.
When it comes to global partnerships to build common standards, HSBC Group CEO, Noel Quinn, chairs the Financial Services Taskforce (FSTF) of the Prince of Wales' Sustainable Markets Initiative, developing industry-wide initiatives and common standards to measure sustainable finance with the support of 11 other banks.
HSBC is also a founding member of the Net Zero Banking Alliance, a group of 58 banks from 29 countries that will bring urgency, collaboration and consistency to net-zero standards.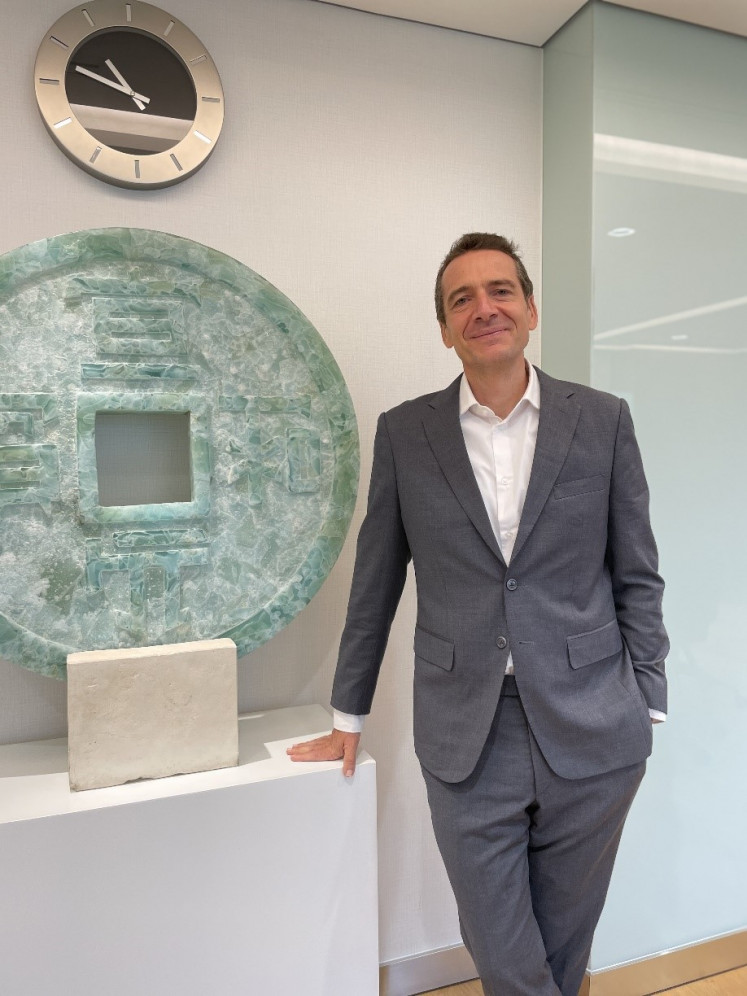 . (Courtesy of HSBC/.)
Green financing 
In Indonesia, HSBC supported the government's inaugural green framework in 2017 and with green bonds and sukuk issued every year under this framework, including USD750 million in green sukuk in 2021.
"We are committed to delivering green financing to our clients in Indonesia," Maricourt said. "Indonesia has a great opportunity to set an example in the transition to net-zero. The country is particularly vulnerable to the impact of climate change, hence Indonesia can find a huge opportunity in transitioning toward sustainable development, as it can accelerate recovery and lead to sustained economic growth.
"For our wealth and personal banking customers, HSBC is also the first bank to launch ESG [environmental, social and governance] mutual funds products as part of our commitment to supporting Indonesia's commitment to building a more sustainable economic growth."
The ESG mutual fund product comprises equity investments in companies that integrate environmental, social and governance principles into their value chains, such as clean technology, human right and business ethics.
In partnership with the WRI and WWF, HSBC has launched a five-year pilot project to help accelerate renewable energy uptake and mobilize private sector investment to support Indonesia's clean energy transition, focusing on the country's commercial and industrial sectors and developing nature-based solutions.
Being a "green structuring advisor" for Indonesia's sukuk, HSBC is also witnessing some reforms that the government has made to support the net-zero emissions target by 2060. They include the establishment of a sustainable finance task force by the OJK; a plan to establish an emissions exchange mechanism that seeks to implement provisions for carbon emissions taxation, the creation of a market for carbon credits and investment in renewables with an expected 56 percent of the 40 gigawatts (GW) of new power plant capacity coming from renewable energy by 2030.
"I have been in Indonesia for around one year. I have been impressed during this time by the progress made; first, in terms of awareness about the need to work on transition plans and the urgency to take action – and this is true for both the public and private sector," Maricourt said.
"There is still a considerable amount of work to be done to meet the target, but things are moving in the right direction and President [Joko] 'Jokowi' [Widodo has made it a priority. As Indonesia will chair the Group of 20 next year, this is will be one of the key issues that will require some tangible actions."