So the saying goes: New year, new… environmentally conscious cafe in East Boston.
Cafe Iterum is set to make its debut in Maverick Square on Jan. 1, when it'll basically become your corner coffee shop and eatery—that also happens to be dedicated to zero waste and sustainability.  
"Generally, in all restaurants and cafes, there are three sustainability aspects I look at: It's the financial, the working and living conditions, and then it's the actual environmental," says Matt McPherson, chef-owner of Cafe Iterum. 
"I consider them all in unison because you can't really do one without the other two and be somewhat sustainable," he adds.
It's not rare for restaurants to have a one-track mind. Sometimes, they can be so fixated on the bottom line that it negatively impacts the environment or their employees. Other times, they might be all about going green, but it could be at the expense of their financial viability. In the long run, McPherson believes that striving for a single goal can undermine the sustainability of a restaurant, which is why he wants to abandon that mentality altogether.
"If the food isn't good, if the working conditions aren't good, if you're treating your employees like crap, it doesn't really matter how green you are," he says. "It's not going to be sustainable for those people, and it's not going to survive. And if you're doing a sustainable restaurant, but the numbers don't work, it's also not going to survive."
We're never going to change the coffee industry as a whole
With Cafe Iterum, the local chef is instead hoping to take a more holistic approach to sustainability while serving up modern cafe favorites. Not only will the spot be working to reduce waste and create both a balanced and equitable work environment for its employees, but it will also be crafting cups of quality coffee and offering plates of delicious, mindful food sure to keep guests coming back for more.
"We're never going to change the coffee industry as a whole," McPherson says, pointing out that coffee itself isn't always the most sustainable product, having to be globally distributed and boasting a notoriously short shelf life. 
"But I think that it's important that we're making sure our employees are trained so we're not just wasting a ton of espresso," he adds. "We also utilize the spent espresso beans, so we're not just putting them in the trash." 
To cut down on unnecessary waste, McPherson says that the cafe will be incorporating spent coffee into items like cakes, pastries and sauces. Any beans that aren't repurposed for cooking will end up in compost, not the garbage can. 
As far as food goes, the menu is filled with uncomplicated cafe fare like baked goods, sandwiches and salads—all of which are prepared with tiny international twists. In addition to researching the sustainability of ingredients—from production to packaging to distribution—McPherson says that the kitchen will try to make greener choices more approachable to people.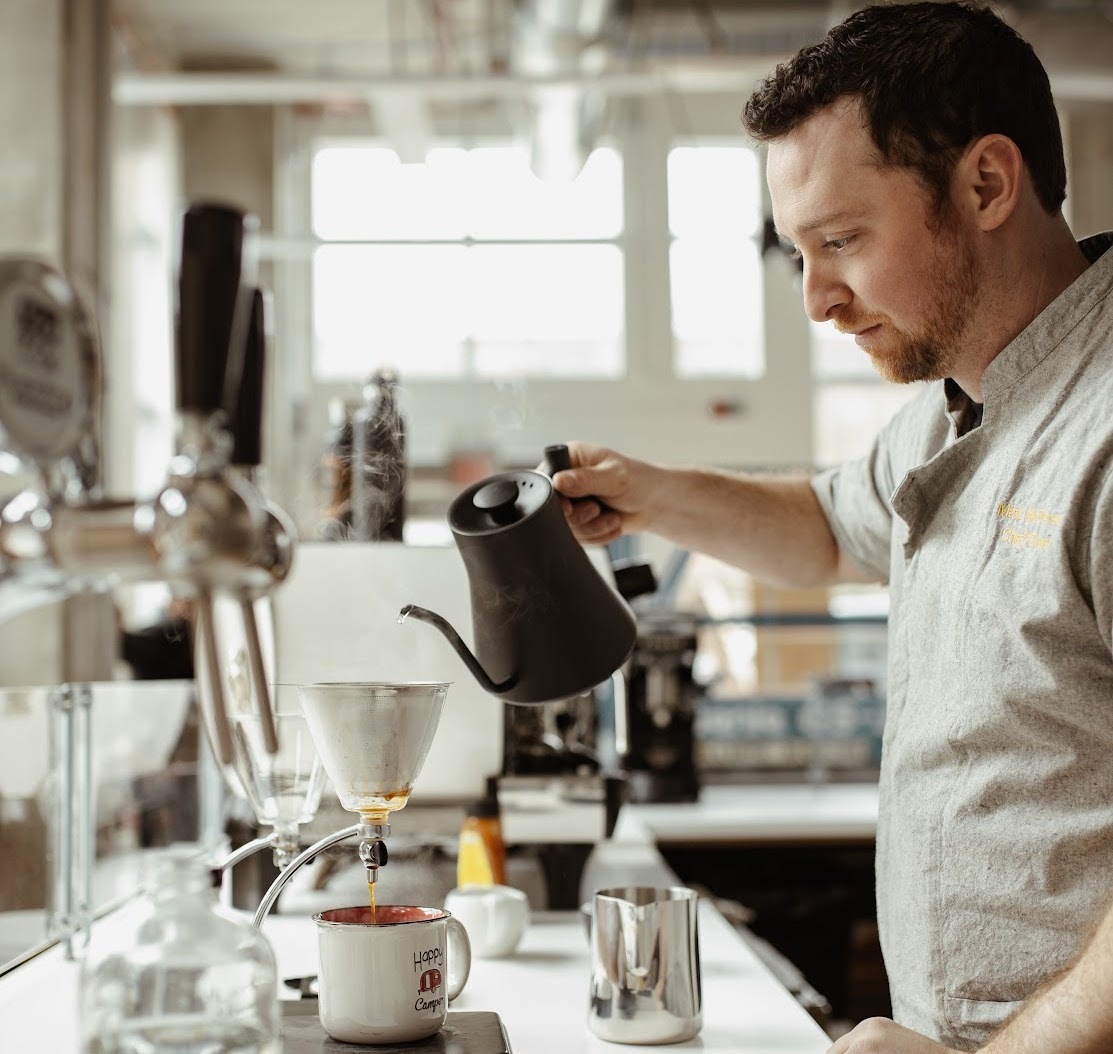 "We're doing a very heavy plant-based menu," he says. "Some dishes we can keep vegetarian or vegan, but we're not necessarily taking away all animal products. I enjoy them and I know a lot of people still do. I don't want to ostresize an entire segment of the population, but we at least want to try to push the plant-based cuisine a little more."
"You can't expect everyone to change all at once," he adds. "You have to gradually guide people into it, teach them and get them into habits by showing them that a sandwich can be absolutely delicious, even though it doesn't have meat."
So whether it be that vegan BLAT sandwich made with eggplant bacon or that bowl of spicy chilled udon noodles, guests will be doing their small part simply by polishing off their plates. Paired with the efforts inside the kitchen and behind the espresso bar, it'll be strides in the right direction. 
"For restaurants as a whole, it's not easy to be sustainable," McPherson says. "It's a tough industry. Even for a cafe like this.
"It's an entire industry looking at how we can do things better. If you work in restaurants, you have a lot of built-in habits already, whether it's using certain products or certain techniques. As an industry, we just have to take what we already have and start getting rid of some of the bad and building up some of the new."