A cause of flatulence. A dull vegan staple. More punishment than pleasure. British pulses have long suffered an image problem. But it wasn't always like this. Fava beans were a staple in Britain for over 3,000 years and even featured prominently in the first known English cookery book in the 14th century.
Fortunately, after centuries in the shade, a renaissance is underway. The rise of flexitarian diets has re-established the role of pulses as an alternative protein to meat and dairy, and pulse-based snacks like quinoa crisps have become regular fixtures in the aisles.
Meanwhile, restaurants like Wahaca, one of the UK's biggest Mexican chains, are turning to British fava beans instead of avocados in their guacamole due to their ecological benefits.
The shift is in no small part thanks to Hodmedod's, a small Suffolk company that has trailblazed a domestic market for indigenous beans and pulses.
Founded by Josiah Meldrum, Nick Saltmarsh and William Hudson in 2012 while investigating the prospect of sustainable food cities in East Anglia, Hodmedod's is bringing new life to these crops.
"A lot of brands have been forced to think very differently about their relationship with their primary production"
Its mission is multifaceted. Not content to simply be a supplier, it is also an agronomist, introducing new crops to British soils and helping farmers to successfully grow them. It is also an "enabler of change," as Meldrum puts it, towards a more equitable food system with less reliance on monocultural cereals.
As a self-confessed "bean evangelist", Meldrum is a gentle yet passionate extoller of their virtues. He thinks deeply about the many problems facing our food system and yet even he cannot explain why customers have failed to show the same interest in the provenance of beans and pulses as in meat and vegetables.
"Certainly when we started, you'd go to a restaurant and people would ask where the meat was from, where the veg was from, how it was grown," he says. "But they wouldn't be thinking about where the grain in the bread was grown. Or the rice. That carbohydrate element is completely overlooked."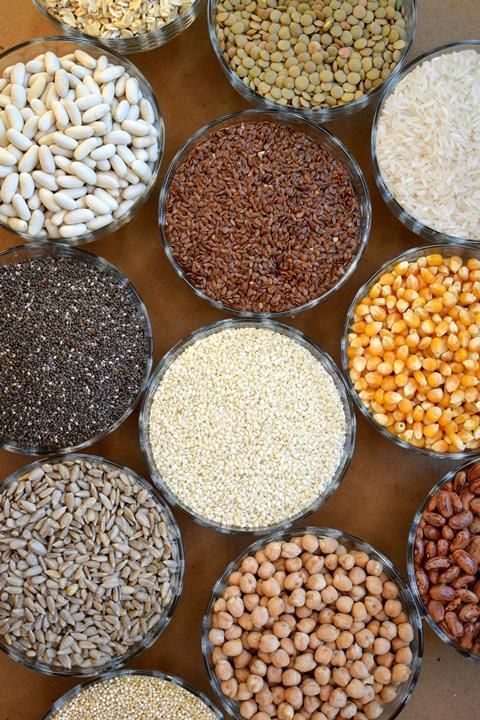 B Corp benefits
Here again though, change may now be afoot. Hodmedod's brand of local traceability helped sales jump 2,000% overnight at the start of the pandemic.
Commercial interest is also on the rise. Meldrum attributes much of this to the B Corp process, "which has forced a lot of brands to think very differently about their relationship with their primary production".
"We're getting calls from people who say: our product contains chickpeas and we don't even know where they're from. They hadn't realised their manufacturer would just be fishing on a global commodity market to find the cheapest chickpeas."
The sheer impact of Hodmedod's on mindsets is particularly surprising given that turnover remains a shade under £2m – not much bigger than a convenience store. Processors once laughed at the trio for suggesting fava beans could be retailed to the public. Today Hodmedod's struggles to keep up with demand.
British grown lentils, chickpeas and saffron, meanwhile, are all now available thanks to Hodmedod's pioneering agronomy. Some, like quinoa, had been growing on British farms since the 1980s, but was used for bird feed. Others, like camelina, were grown as part of jet fuel trials to try and reduce emissions. Now they're sold as an ingredient for baking.
Name: Josiah Meldrum
Age: 48
Potted CV: A degree in International Development. Worked for a regional NGO called East Anglia Food Link on sustainable food systems, some of which led to Hodmedod's.
Favourite pulse: Carlin peas, which are delicious, beautiful and have a rich cultural history, would have to be near the top.
Currently reading: Rebugging the Planet by Vicki Hird.
Make one change to the food system? Increased diversity on farms and plates. Reducing our dependence on maize, rice and wheat for over 50% of our calories.
One person in food you admire? The late Professor Martin Wolfe was ahead of his time on diversity on farms
Hodmedod's does not farm itself, but works with about 25 farmers around the UK to sell their produce on through hospitality, wholesale, and online. Meldrum is well aware this places them in the realm of "middlemen – so often vilified as the person that skims off a percentage and doesn't contribute much to the food system".
Where Hodmedod's is different, he explains, is that it uses its position to be a positive broker for change, acting as a channel of communication between farmers and customers, and helping to enable a more co-operative, sustainable, and equitable food system.
Hodmedod's mission to be an "enabler of change" means it has a different approach to the major mults and manufacturers, Meldrum adds. "Their relationship with primary production is very extractive. They often tell farmers what the price is, when they want it, what the specification is. And farmers often agree because that's the only customer they've got."
These types of conversations often act as inhibitors of change. British-grown lentils, for example, were long hampered because of the food industry's focus on making any UK grown crops as cheap as Canadian imports, says Meldrum.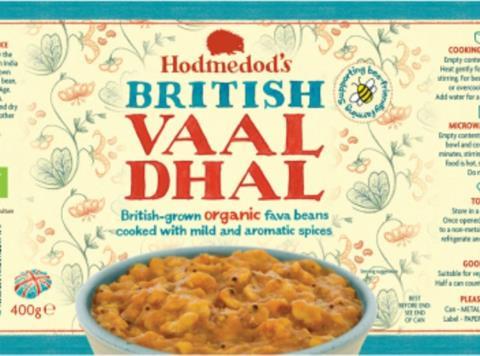 So instead of immediately focusing on issues like how quickly volumes can grow to maximise profit, Hodmedod's works with farmers to first establish if and how they could grow lentils, before exploring issues of scale and profitability.
The approach does mean higher prices. A 500g bag of Hodmedod's chickpeas, for example, costs £3.79, compared with £1.20 for Waitrose own brand. But as Meldrum points out, "if we seem too niche and expensive, then why? Because we're paying a fair price."
Their collaborative approach is drawing attention. Meldrum takes two or three calls a week from farmers asking to supply them, while major supermarkets are also knocking on the door.
Meldrum is cautious, recognising that such a tie-up would be a "confrontation of models". But he also acknowledges that fundamental change is nigh impossible without the supermarkets on board. "The question for us is whether we're the business to go in and try and make that change."