The project's goal: "Replant love" to increase biodiversity and cooperation and competition between plant
By Barbara Burke
Special to The Malibu Times
​They gathered on the early morning of Nov. 5 at Juan Bautista De Anza Park in Calabasas adjacent to the Las Virgenes trail, armed with shovels, mulch, and native seeds collected and propagated in Malibu Foundation's nursery.
"I think it's a really good experience that helps the environment," Volunteer Jude Potenza, 8, said. "You think you're just helping a little, but I realize that I'm helping to change the whole world!"
The project's goal: to "replant love" by installing a microforest mimicking nature, thereby increasing biodiversity and cooperation and competition between plants. Such microforests also bolster plants' survivability by encouraging less dependence on water, thereby significantly reducing the temperature in the area where they are planted, a welcomed, beneficial side effect in our warming world.
​The De Anza microforest, the first in the Santa Monica Mountains, is composed of densely planted, hyper-local native plants in a multi-layered small forest that acts as a self-sustaining ecosystem that reconnects back to nature. The concept of planting microforests is based on botanist Akira Miyawaki's method of afforestation which involves very densely planting local, indigenous, and regionally adapted shrubs and trees, while ensuring that no two plants of the same height are side by side, which allows for maximum growth and fosters natural vegetation restoration. The planting technique not only provides shade, but also cleanses carbon-based greenhouse gases from the air. 
​Microforests provide many benefits, including native insects and animals returning to the microforest, which supports soil health and creates a thick forest quickly.
Los Angeles County's first microforest in Griffith Park is a huge success and became self-sustaining in the two years since its planting. The county's two microforests will provide a seed bank, which will ultimately enable more microforests to be planted.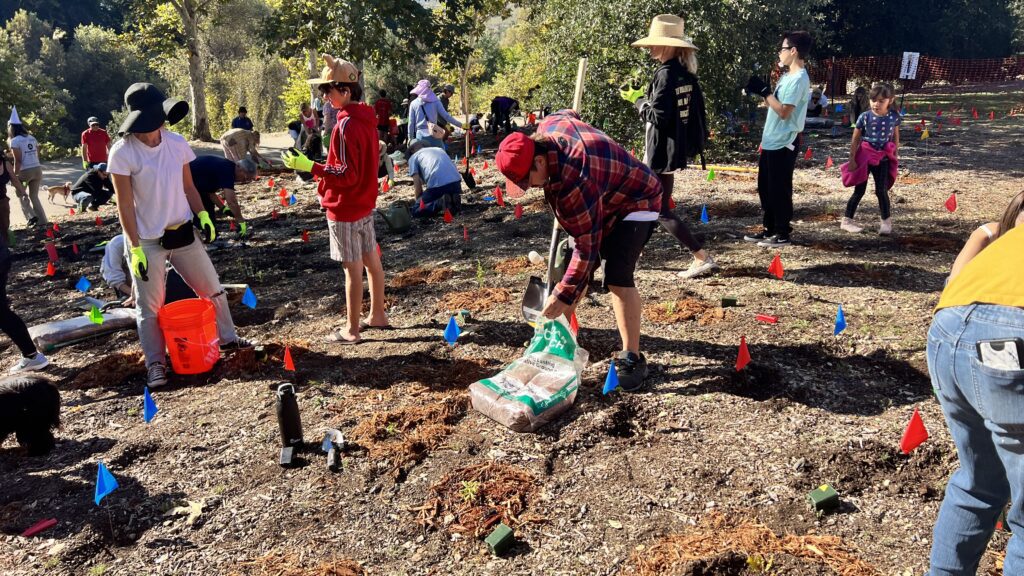 Planting microforests 
​Participants at the event encountered posters providing step-by-step planting directions to achieve various layers of vegetation, consisting of an understory, shrubs and trees, and overstory trees. 
Sub-trees included coyote brush, a common shrub that grows in chaparral regions from Baja California to Oregon and whose white and yellow flowers attract bees and moths; California scrub oak; blue coffeeberry; and hairy ceanothus, an evergreen shrub that can grow up to 15 feet high and can live from 100 to 200 years. Other shrubs and perennials include black sage, California sagebrush, California wild roses, which exude a beautiful fragrance when blooming and grow from the coast to the foothills of the mountains, and mugwort, golden currents, narrowleaf milkweed, purple needlegrass and sawtooth goldenbush. 
​The next layer of the forest is composed of Southern California black walnut trees, a species that is endangered in large parts of its range due to overdevelopment, but which attracts birds who eat the tree nuts and like to nest in its branches. Valley oaks and coastal live oaks provide the canopy for the microforest. 
Those attendees who were somewhat daunted by the planting process were instructed to follow seven easy steps: Unpot a plant, loosen its roots, set the plant in its pre-dug hole, backfill the hole with soil, create a berm to make watering easier, apply 2-3 inches of mulch around the plant past the berm, ensuring the mulch does not touch the plant's stem, and finally, water with a minimum of 5 gallons per plant.
Sponsor Malibu Foundation's goals and accomplishments
​Malibu Foundation was formed in 2018 after the Woolsey Fire, which burned more than 150 square miles of the Santa Monica Mountains. According to Executive Director Evelin Weber, to help prevent another disaster, the nonprofit organization first focused on helping fire victims and the City of Malibu rebuild. 
"The Foundation now focuses on bolstering community-based disaster preparedness efforts and community resilience through its efforts to combat climate change through nature-based solutions, including planting microforests in burn areas which remediates damaged soil and increases biodiversity," Weber said. "The Foundation conducts GIS mapping a lot and before planting at DeAnza Park we conducted soil testing to measure microbial bacteria in the soil, which provided a baseline of the soil's composition." 
Weber noted that after the planting, the organization will monitor soil conditions and temperatures, providing more analytics as a baseline for potential future microforest plantings in the area.
"Microforests are very beneficial to the environment and are efficient," Weber said. "They capture two to three times the amount of carbon than traditional planting and they grow five times as fast because of root competition. It's a better way to plant because, if we plant 500 plants in a microforest, it's like planting 1,500 plants in the traditional way."
Malibu Foundation has planted 25,000 plants since the Woolsey Fire, according to Denise DeGarmo, community outreach coordinator for Malibu Foundation. 
"Planting microforests can be done virtually anywhere — people's homes, bus stops, or on center dividers on road thoroughfares," DeGarmo said. "Our goal is to plant such areas throughout Southern California."
It takes a village
A team of volunteers helped to plant at De Anza, including a cohort from the Climate Action Corps.
"I'm volunteering with the Corps for this project because I strongly care about climate change," Mallory Finley said. "Although it's important to hold big corporations accountable with regard to climate change issues, we cannot give up on the participation of individuals and small citizen groups and we need to have them empower communities to mitigate climate change."
Families and individuals also volunteered. 
"I brought my three boys to this event because it teaches them the value of volunteering," said Ashley Potenza, whose 11-year-old son, Jakob, chimed in saying, "I think it's a great way to get together and plant a mini-forest that will really help the environment." 
Pausing to watch the family plant, one could only note that, as the next generation learned to both give back and look forward to the future, they were planting the next generation of plant life.
The Replant Love event was co-hosted by Clarins, a family-based cosmetics brand that uses locally grown plants and organic ingredients for its products.
Clarins representative Lucas Petry noted the company pioneers plant science and technology methods in the cosmetics sector and has expertise in phyto-chemistry. 
"We're a nature-based company that is focusing on the earth near Malibu today," he said. 
The Replant Love event was also supported by local companies Anawalt Lumber, which partnered with Kellogg Garden Products to contribute cedar mulch and garden products, as well as by Sperber Landscaping, which donated shovels, rakes, hand towels and gloves for the effort. 
"We want to see microforests all over Los Angeles," said Scarlet Eskew, grants and program manager for Malibu Foundation. "Therefore, we're issuing a call to action to anyone in any city in the county to reach out to us. We'd love to come plant for them!" 
For More Information contact Denise@themalibufoundation.org.
Related