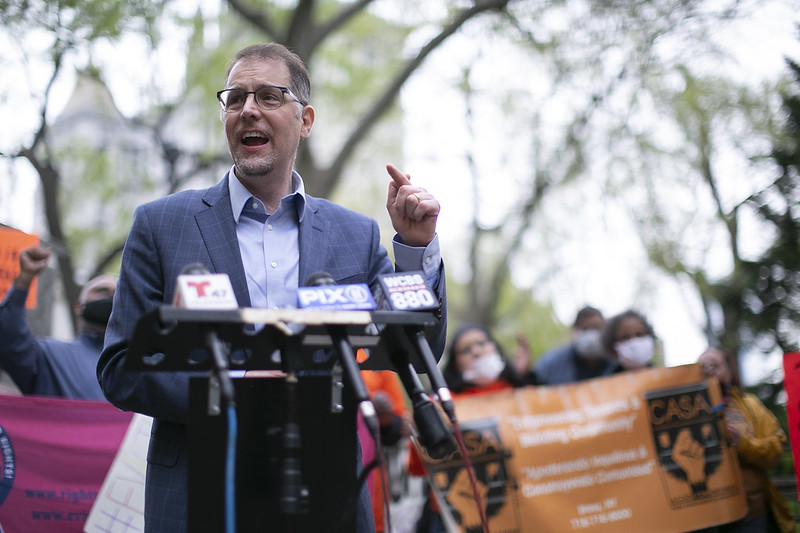 Mark Levine (photo: William Alatriste/City Council)
---
After prevailing in the Democratic primary that just concluded, City Council Member Mark Levine appears very likely to be Manhattan's next Borough President, given the borough's overwhelming Democratc enrollment advantage.
Along with chairing the City Council's health committee and growing into a prominent voice on COVID-19 health guidelines and accountability during the pandemic, Levine relied on a strong uptown base of support, major endorsements, and key accomplishments like legislation to provide a right to counsel in housing court for low-income New Yorkers that has prevented tens of thousands of evictions.
Of the ballots that have been tabulated so far, which include all the in-person votes and almost all the absentee votes, Levine garnered 28.3% of the first-choice votes, narrowly ahead of State Senator Brad Hoylman's 26%, with all other candidates emerging with no more than 13%. The ranked-choice runoff calculations yielded a somewhat more comfortable lead for Levine, who received 99,643 votes after the final elimination round — 53.7% — compared to Hoylman's 85,756 votes, or 46.3%. While the Board of Elections will release a final tally including more absentee ballots next week, Hoylman conceded the race on July 4 and Levine celebrated a Democratic primary victory that all but assures him to become the next Manhattan Borough President.
Levine is currently serving his final term in the City Council representing parts of Washington Heights, Morningside Heights, Harlem, and the Upper West Side. He ran in the Democratic primary against Hoylman, City Council Member Ben Kallos, former state economic development official Lindsey Boylan, former community board chair Elizabeth Caputo, community activist Guillermo Perez, and education advocate Kimberly Watkins. In November, Levine will face off against Yorkville-based Republican candidate Lou Pouliafito, who last year lost in a bid to unseat Assemblymember Rebecca Seawright.
Over the course of the race, Levine highlighted his record pressuring the city to rapidly institute science-based COVID-19 policies and co-sponsoring two right to counsel bills that guarantee many tenants' access to a lawyer in housing court. Levine has represented Manhattan's 7th district on the City Council for two four-year terms, which he'll serve through the end of the year. His platform focused on healthcare access and public health preparedness, instituting a public bank to aid small businesses and community land trusts, and creating a borough-wide zoning and development plan.
The last of these perhaps speaks most to the role of the borough president, which is something of what the office-holder makes of it along with several formal powers and a significant advisory say in land use matters.
While Levine would have limited formal power to enact his promised reforms as Borough President, he would serve as a face of Manhattan with a bully pulpit to advocate for his priorities. Borough Presidents play a role in land use decisions that ultimately go before the City Council, appoint members to community boards and other committees, and can co-sponsor legislation in the Council. They also get to allocate budget funding to nonprofits and capital projects, and can utilize their own office budgets to issue reports and recommendations on focus issues of their choice. They can act as a convener, helping to ameliorate disputes or work out compromises, and can try to pitch businesses, cultural institutions, and others on coming to or expanding in their borough (or leaving or not coming to, as it may be).
Levine would enter this role at a pivotal moment for Manhattan, along with the rest of the city, as the city attempts to fight and recover from the pandemic and its fallout. Manhattan's small business economy suffered acutely from the downturn in tourism, shift to remote work, and pause in live performances brought about by COVID-19. Many of the borough's office and commercial buildings have sat empty for more than a year, particularly in Midtown and Lower Manhattan, leading politicians and developers alike to speculate about new possible futures for the vacant space and contributing to massive challenges for the restaurants and many other businesses dependent upon that human traffic. The theater industry has also struggled to stay afloat through the pandemic, though federal aid has helped to a yet-determined extent.
As always, but perhaps most acutely now, homelessness, housing, and development are top issues for the borough and its next president.
For years before the pandemic, Manhattan's skyline had been changing rapidly with a spurt of tall buildings, including thousands of luxury apartments selling for tens of millions of dollars that have sat empty, even as the city faces a dire affordable housing shortage. A majority of unsheltered homeless New Yorkers live in Manhattan, according to the Bowery Mission. And neighborhoods including Harlem and the Lower East Side have been gentrifying, with low-income people of color disproportionately displaced. Questions around housing development, even with large shares of affordable units, and battles over the placement of homeless shelters persist.
The incoming Borough President will also need to address an increasingly urgent need for climate infrastructure, especially given the borough's island geography; the likely forthcoming congestion pricing program; upzonings in Inwood (passed) and SoHo/NoHo (proposed), which have both met resistance; transit infrastructure like busways and protected bike lanes; and more.
Over the course of his campaign, Levine received the largest number of private campaign contributions throughout the race, with  2,372 donations amounting to $523,234, and, like Hoylman and Kallos, he received more than $1 million in public matching funds. His endorsers included a range of labor unions, including District Council 37 (representing municipal employees), Transport Workers Local 100, the Uniformed Fire Officers' Association, the New York State Nurses' Association, the Hotel Trades Council, and the Uniformed Sanitationmen's Association. He was also crucially endorsed by U.S. Reps. Adriano Espaillat and Nydia Velázquez, as well as several Assembly members and City Council members, a number of hyperlocal Democratic Clubs, and New Yorkers for Clean, Livable, and Safe Streets (NYCLASS), and others.
Levine's central priority is tackling COVID-19 and its aftereffects, which of course spans many issues. As Borough President, he would create a COVID-19 Recovery Unit in his office, which would focus on health equity, economic recovery, and ensuring the city's preparedness for the next public health crisis.
As part of his pandemic recovery plan, Levine promises to advocate for universal access to primary health care, particularly for undocumented immigrants lacking health insurance, and to fight for better funding for public hospitals. He would also work to bolster healthcare workers' anti-racism training, create new channels of communication between public health experts and leaders at every level of government, and increase coordination between public and private hospitals.
Levine's role as chair of the Council's health committee pushed him into a citywide and even national spotlight during the pandemic. Early in March 2020, as the de Blasio administration wavered on shutting down the St. Patrick's Day Parade, Levine called for restaurants and bars to close. He became a vocal critic of the city's allocation of viral testing resources, arguing that tests should be reserved for the most sick residents, and pressed for the city to open 24-hour vaccination sites. His social media presence became a regular source of public health guidance, frequently calling attention to the severity of the pandemic and stressing the need to follow health guidelines.
His advocacy on pandemic health measures was not without controversy. On Twitter in April 2020, he suggested that the city was planning to use public parks as possible burial grounds — a statement that the de Blasio administration refuted, and which he later retracted.
As the first summer of the pandemic approached, Levine called for beaches to officially reopen — a somewhat unpopular position among the political class that he argued would help New Yorkers adhere to critical social distancing guidelines by providing an outlet for relaxing out of the house. The mayor eventually opened the beaches.
Levine has also campaigned on a plan to create a public bank by reinvesting city money typically held through Wall Street. Under his vision, the bank could loan to small, minority- and women-owned businesses, as well as toward investments in affordable housing, green technology, and community land trusts. To revive the city's small business ecosystem, he would provide direct cash assistance, rent relief, and legal aid to small enterprises. He also supports offering tax incentives to landlords who agree to lower commercial rent.
And Levine has called for an overhaul of the city's neighborhood-by-neighborhood approach to zoning reform, arguing that Manhattan should be holistically rezoned with equity among neighborhoods in mind.
On the "Decision NYC" series from Gotham Gazette and Manhattan Neighborhood Network, he argued that Manhattan needs "a full borough review so that we have equal sharing of the benefits and burdens of development," critiquing the city's rezoning efforts as "a patchwork approach" that has unfairly targeted majority-Black and Latino neighborhoods for upzonings that spark development. He envisions a borough-wide plan that adds density to Manhattan's avenues with required affordable housing development, sets height limits for mid-block projects, and builds in stronger community engagement processes.
Still, he has supported the city's current initiative to rezone parts of SoHo/NoHo — which may become the first predominantly white residential neighborhood to be upzoned under de Blasio. "We have to respect the integrity of the historic district, but I think there's opportunity for a real win-win there that will help bring much needed affordable housing to the neighborhood," he said on Decision NYC, pointing out that SoHo's edges are underdeveloped.
Levine believes that apartments built on publicly-owned land should be 100% affordable units. For this reason, he opposes the forthcoming skyscraper at 5 World Trade Center, which would build new office space and over 1,300 apartments, 25% of which would be affordable units for families making 50% of the area median income. 
At a June debate hosted by NY1, Levine also criticized a forthcoming "life sciences hub" at 310 East 67th Street, arguing that there were better sites in the city for the proposed New York Blood Center project — for instance, in more commercial parts of Midtown and West Harlem. "Basic urban planning principles dictate that you don't build a huge building mid-block in a residential area," he said, in a sentiment shared by his competitors. "It is out of scale, and it doesn't bring any affordable housing."
Levine has run as a tenants' rights advocate, pointing to his work on passing — and then accelerating — the right to counsel legislation for tenants facing housing court. According to his website, he supports taxing landlords for vacant residential and commercial units, and he has said he would work to add more NYCHA residents to community boards. He also refused donations from real estate developers over the course of the campaign, joining a number of his competitors.
As part of addressing Manhattan's homelessness crisis, Levine supports more use of safe haven-style shelters, which typically don't have curfew or sobriety requirements so as to lower barriers to entry, particularly aiming to help people move off the streets and subways. He has pledged to bring in more supportive housing with built-in social services, citing his support as the local Council member of a 200-unit supportive housing development on 108th Street.
He also supports a number of traffic and street design reforms, including proposals to containerize the heaps of garbage bags that wait for collection on sidewalks and the forthcoming congestion pricing system that will take effect below 61st Street and the revenue from which is supposed to help fund critical subway infrastructure upgrades. He has proposed legislation to institute a residential parking permit system in the city to allocate certain parking spots for local residents. And at the NY1 debate, he expressed support for the pandemic-era expansion of outdoor dining into parking spaces to continue in a tweaked format.
On the issue of criminal justice reform, Levine has called for some police funding to be reallocated towards mental health care teams, social workers, and violence interrupters. He supports removing police officers from addiction, mental health, and traffic-related calls. And he believes in a city residency requirement for all NYPD officers. Levine also supports the city's plan to shut down the Rikers Island jails and to institute borough-based jails in its place, arguing on Decision NYC that "it's much more humane to have smaller, community-based jails"; the details of the city's plans, which he voted to approve and include the building of a new jail in downtown Manhattan, would need to be reevaluated, he added, in light of the city's pandemic fiscal crisis.
Levine has called for public schools to open five days per week in the coming school year, which is now the plan. He said at the NY1 debate that social distancing requirements that students remain six or three feet apart from one another are "impractical." He also said he is open to supporting mask-free education, depending on the covid rates. He also stressed the importance of strengthening filters and air purifiers in schools. More broadly, Levine says he wants the city to build more schools to address overcrowding and would work to ensure that every school has medical and mental health professionals.
Levine is himself a public school parent, and he used to teach bilingual math and science classes in a South Bronx school, where he was a member of the United Federation of Teachers. He subsequently founded the Neighborhood Trust Credit Union, a community development credit union that offers affordable loans and financial services, before becoming a member of City Council.
On Decision NYC, Levine said he would approach the Borough President position as "a powerful platform for organizing" to address these issues, viewing the role as an opportunity to build coalitions around the issues he believes in.
"Thank you Manhattan!" Levine wrote on July 6 as he declared victory on Twitter. "I will put my heart and soul into fighting for our comeback."