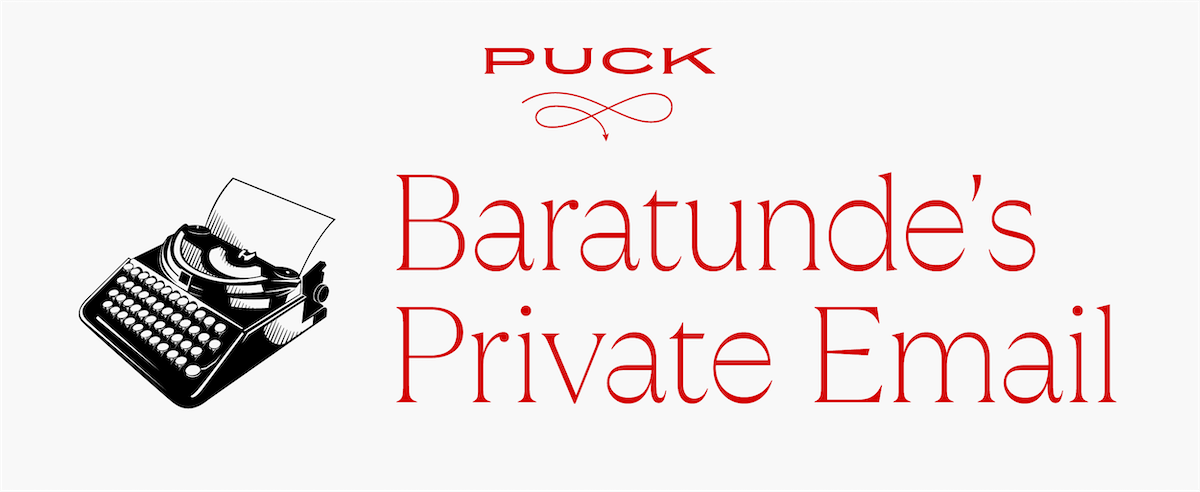 Hi you,
I'm winding down my unofficial national tour as we enter the holiday season. It's National Native American Heritage Month and a good time to reflect on and learn about the first peoples in what's now the United States. This exhibit at the National Gallery of Art is worth exploring IRL or virtually. (In the world of film, I highly recommend the new movie Radical, about a teacher in a Mexican border town trying a radical new method to reach his students.)
And in the world of tech, well… I'm as confused as anyone about the sudden ouster of Sam Altman from OpenAI on Friday evening. By the time you read this, he could be reinstalled. Regardless of the latest breaking news, I found this article by Alexander Gounares worthwhile. He focuses on the high-risk move OpenAI's board—composed of four independent directors!—took and what it means for corporate governance.
Now I want to get into the main event, which is about how we persist as one nation in these fractured times.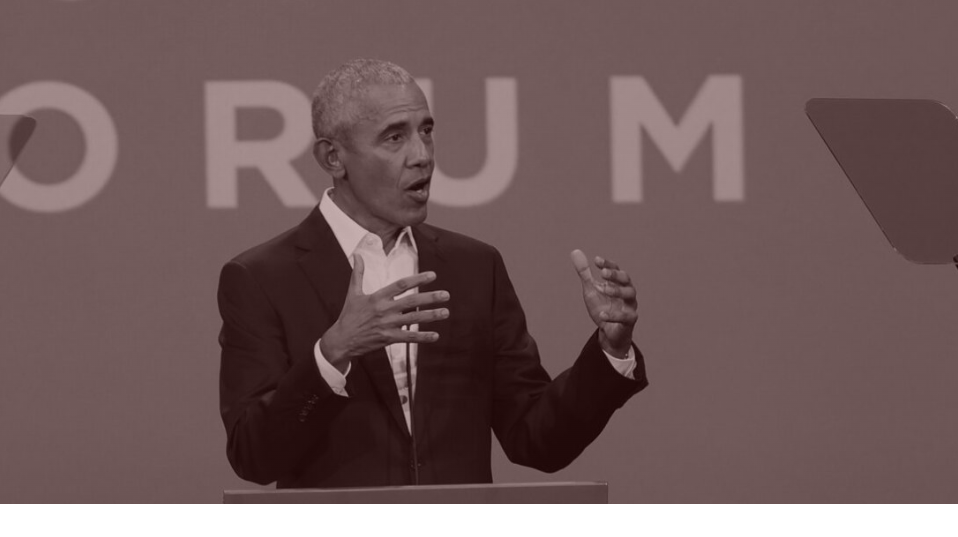 My Chat With Obama
Reflections on media fragmentation in the Obama era, how Trump accelerated its breakup, and what Biden can do to find a new way forward.
Barack Obama was always a generationally gifted storyteller, as I was reminded earlier this month when I sat down to interview him in Chicago—one of the perks of emceeing this year's Democracy Forum, the annual gathering of the Obama Foundation. The one-day event, timed to coincide with the 15th anniversary of Obama's 2008 election, was nostalgic at times, recalling a political era of hope and change. But Obama himself was mostly focused on looking forward: to the rapid and destabilizing force of A.I. and the tenuous state of democracy around the world, as well as the exploding war between Israel and Hamas. There was a mix of urgency, humility, and, yes, still some hope in the air.

In our time together onstage, I asked the former president how he would apply the practice of democracy and citizenship to address the problems of climate, technology, the economy, and our media ecosystem. Not a simple prompt! But in classic Obama fashion, he spoke thoughtfully about the tension and multiple truths of the moment. Perhaps most poignantly, he reframed the question as a challenge: "How do we take the understanding that everybody's stories matter," he said, "and then still find the possibility of finding common ground?"

It's an important question, and one that's become increasingly difficult for anyone in politics to answer. Obama was supposed to be the Purple America president who helped us find that common ground. He tried, but he was met with conspiracy theories, increasing norm-busting partisanship by G.O.P. members of the House and Senate, and a historical drift toward more media fragmentation driven by digital platforms that isolated us from each other without the moderating effect of government oversight. Where we ended up after Obama, in a land riven by hyperpartisanship and disinformation, wasn't inevitable, but the odds were against us finding common ground once Donald Trump assumed the presidency. He was purpose-built for these times, pouring fuel on a growing fire of grievance that raged by the end of his presidency. Insults, impeachable offenses, and "alternative facts" became a new normal.

Joe Biden, with his decades of experience and relationships within both parties, promised to restore the old normal, a time when Democrats and Republicans could disagree without being disagreeable, while also being a bridge to future leadership. He was convincing, or we were desperate, or both. Enough of us believed, and though he lacked Obama's rhetorical flourish and historical significance, his plainness had its own advantages: "Scranton Joe" would keep it simple and use his grandfatherly vibe to try to unite his various constituents. It hasn't worked. At best, Biden has slowed our headlong race toward a fractured future, delaying but not reversing the trend.

Data suggests we have pulled off something of an economic miracle: surpassing Europe and Asia in post-Covid recovery, achieving record-low unemployment, getting inflation under control, and growing wages for middle- and low-income Americans. But most people don't believe it. For many, the balms of Bidenomics are less tangible than the easy-money late-stage ZIRP era. Meanwhile, some two-thirds of Republicans believe that Biden only won the election due to voter fraud.

These split realities aren't just between left and right but also within the Democratic coalition, where Israel's response to the recent Hamas terrorist attacks—large scale displacement and bombing that has also killed Palestinian civilians—has revealed stark divides. A new NBC News poll found that 70 percent of voters aged 18 to 34 disapprove of Biden's handling of the war, and in the key swing state of Michigan his support among Muslim voters has collapsed (from 85 percent in 2020 down to five percent). As we approach the 2024 election, I feel a sense of dread. Biden's poll numbers are underwater, with his negatives at 57 percent and his approval down to 40, an all-time low. Vice President Kamala Harris's numbers are worse. And yet Trump, facing 91 felony counts in four cases, is ahead in two recent polls. Many voters seem to treat Biden's age as equivalent to Trump's alleged criminality. The current president is not in a strong position to recapture any sense of shared narrative. We aren't going back to normal. We are drifting toward further fracture.

Spending a day inside Obamaworld had me reflecting on whether this could have turned out differently, and more importantly, if it still can. Is it possible for anyone to weave together a common story, establish a sense of shared reality, when reality itself is splintering?
Around the time of Obama's first election, there was still a sort of identifiable media monoculture, defined by a handful of legacy newspapers and television news networks. The screens through which we perceived the world were larger and more likely to be shared—a majority of us didn't use smartphones, and Apple's App Store, launched in 2008, did not yet offer a hundred stand-alone apps for every conceivable need. "Social networking" was an activity that happened largely on websites where people shared information along threads of existing connections.

Back then, "new media" and its challenge to "mainstream media" meant blogs, as in "web logs," websites where people gathered to write self-assigned, long-winded op-eds about mainstream media, do battle in even more long-winded comments sections, and practice a form of digital organizing through those communities. Popular blogs of the time included DailyKos, built initially around the personality of Markos Moulitsas, and others including Talking Points Memo, RedState, and Wonkette to name a few. I was part of this disruption and fragmentation as the co-founder of the Black-focused political blog Jack & Jill Politics.

It was in my role as a blogger that I first met Obama. He and all the major Democratic presidential candidates appeared at the annual YearlyKos convention (now Netroots Nation). In a room of roughly 200 people, I raised my hand to ask the then-junior senator from Illinois about the sluggish timeline of his proposed climate change policies. He responded—thoughtfully, of course—about the need to bring fossil fuel workers into the green economy of the future. (Afterward, I scored a blurry photo with Obama for my troubles.)

The Obama campaign that I went on to volunteer for—in the primary and general elections, online and across multiple states—was groundbreaking. The campaign used MySpace (R.I.P.) and Facebook to massive effect in the pre-algorithm era. It hosted My.BarackObama.com, where supporters could build their own micro social networks to raise money, organize events, and coordinate volunteer efforts. The campaign's targeted email and SMS efforts were the stuff of legend. As the authors of a 2009 Stanford Business School case study put it, the Obama campaign was "one of the most effective Internet marketing plans in history." Obama may have been the first "social media candidate" and president, but as he joked during a Pod Save America interview at this month's Democracy Forum, "it was mostly MySpace and Meetup. … You know what the thing about Meetup was? You had to meet up!"

Now, the media environment of Obama's first term seems quaint. Mere social networking has now been replaced by social media, infiltrated and optimized by algorithms that splinter us into microchannels, unaware of what's happening in the feed of someone sitting right next to us. After the Russian meddling in 2016, Trump's presidency, Covid, Black Lives Matter, the insurrection, and TikTok, it's not just hard to find common cause with our fellow Americans—it's seemingly impossible to find any common narratives, at all. Even if President Biden had the oratorical gifts (and age) of Obama, I think he would struggle. How can we see each other in an information environment that makes it increasingly difficult to actually see the same things? How can any leader or administration tell a common story in an algorithmically segregated world? Was Obama's entreaty possible, or just the wistful thinking of a successful guy in his second act?
I posed some of these questions to Thanasi Dilos, the 20-year-old co-founder of Civics Unplugged, an organization that trains and funds Gen-Zers to become civic innovators, and where I serve as a board member. I found his reflections refreshingly clear, and blunt. "Biden's problem is not that he can't reach across algorithmic divides," he wrote to me. "It's that he's trying to push his message to a diverse group of people using one style/strategy. Why not use niche storytelling?"

Dilos illuminated for me one of the paradoxical features of TikTok's algorithm: that while the various "sides" of TikTok ("workouttok or foodtok"), otherwise known as niche communities, seem to exist in digital silos, they can also function as entry points to the larger TikTok community. He pointed me to a handful of examples of U.S. politicians, such as North Carolina Rep. Jeff Jackson, who got his message out to 1.7 million people as a freshman congressman just by speaking directly to the camera. "This new ecosystem allows leaders to distribute their message to a more engaged group of folks if done correctly," said Dilos. "Partnering with the right creators, speaking the right way, and getting into the right 'niche communities' could make a messaging campaign more successful than a 30-second spot on TV."

Dilos's suggestions resonated with me. Not only were they insightful, but their underlying principles have proven effective across different eras. Whether a president was going on different radio shows, late-night shows, blogs, or livestreams, it's been clear that reaching many people requires having many messages distributed through many channels. But there's also something else required beyond broadcasting differently. Because we, the people, are having a harder time seeing each other, we need political and media voices that will help us see us, not just them.

This was the most valuable lesson I gained from the Obama campaign. Yes, it innovated in outreach, and it innovated in how it listened to the people, but connecting the people to each other, through events, digital platforms, and narratives was the true movement part of the campaign.

In our conversation a few weeks ago, Obama spoke to this point directly, saying, "We really don't hear each other. We really don't see each other. And if we can't break through that, then we'll never get to all the wonderful ideas and amazing projects that are out there. We may be able to do it on small scales, in communities in which everybody kind of agrees with each other, but we won't be able to do it at the scale of nations." From what I could see, Obama's foundation is focused on this task, connecting young people around the world to each other to supercharge their efforts at changing their communities, not merely celebrating the heyday of a former U.S. president.

Biden, or anyone else looking to lead right now, doesn't have a "messaging problem." They have a visibility problem. We need help seeing and hearing each other. There's no one method or person who will offer that. It's going to be through a combination that includes deliberative democracy processes like citizen assemblies as well as technological innovation through experiments like the Collective Intelligence Project. It will also happen through literal facilitation around divisive topics like the Israel-Hamas war, especially on college campuses. (One small example is the Hotline for Israel/Palestine that launched at Harvard, allowing anyone to ask any question about the conflict, with the answers anchored in multiple perspectives and transparency.)

What we need in this moment is a catalyst and facilitator, not just a great orator and messenger. We don't need a leader to tell us what our common story is. We need a leader who will help us through a process to tell that story ourselves.
FOUR STORIES WE'RE TALKING ABOUT
Gap Year
Presaging a C-suite massacre.
LAUREN SHERMAN

Zaz Lit 101
News and notes from around the media industry.
DYLAN BYERS

Need help? Review our FAQs
page or contact
us for assistance. For brand partnerships, email ads@puck.news.
You received this email because you signed up to receive emails from Puck, or as part of your Puck account associated with . To stop receiving this newsletter and/or manage all your email preferences, click here.
Puck is published by Heat Media LLC. 227 W 17th St New York, NY 10011.