Shares of Onto Innovation Inc. (ONTO – Free Report) have surged 109.4% over the past year, driven by healthy revenues on the back of a flexible business model and solid market response for cost-effective solutions. Earnings estimates for the current and next fiscal year have increased 46.9% and 37.5%, respectively, over the past year, implying strong growth potential. Onto has reaffirmed its commitments toward corporate social responsibility and sustainable business practices to realize its goal of being a more ESG (environmental, social, and governance) focused company. With healthy fundamentals, this Zacks Rank #2 (Buy) consumer and electronic equipment manufacturer appears to be a solid investment option at the moment.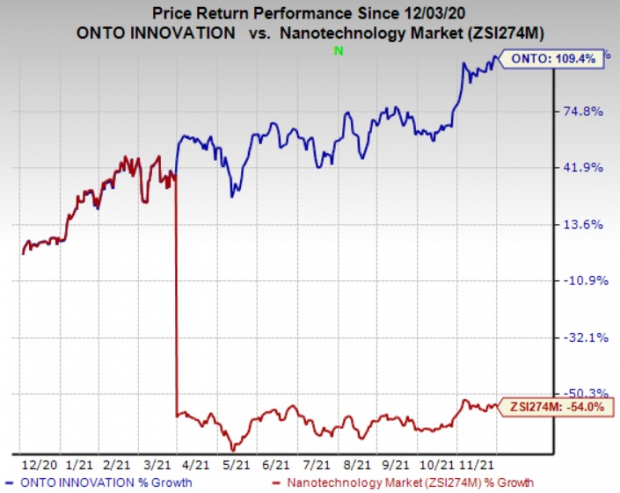 Image Source: Zacks Investment Research
Growth Drivers
Headquartered in Wilmington, MA, Onto operates as the leading manufacturer of avant-garde process control tools that perform macro defect inspections and metrology, and lithography systems. As a global leader of process and yield management solutions, the company plays a significant role in designing, manufacturing and marketing process control systems for 2D and 3D macro inspection, optical critical dimension metrology and wafer inspection. It boasts a broad portfolio of leading-edge technologies — metal interconnect composition, factory analytics and lithography for advanced semiconductor packaging. Also, it develops innovative analytical software for certain industrial applications.
With state-of-the-art inspection, measurement and data analysis solutions, Onto reduces operating costs and accelerates product and process development. This enables customers to get first-hand access to premium products at optimum prices. The company has an extensive geographical footprint and supports a diverse range of customers in more than 20 countries. It is one of the few companies that are an end-to-end supplier of products and applications, ranging from un-patterned wafer quality to advanced packaging lithography, with enterprise software solutions spanning across the entire value chain. The company believes that its evolving product portfolio and surging customer base are the cornerstones of its long-term growth across diverse markets.
Onto invests in research and development to provide differentiated products and services, which adds value to its manufacturing processes. Backed by its expertise in core technologies of optics and software, the rapid and ongoing development of new products and enhancements to existing products enable it to quickly respond to dynamic industry trends as well as competitive challenges. It caters to various markets such as Bare Wafer, Image Sensors, Flat Panel Display, Probe Test and RF/MEMS (radio-frequency/microelectromechanical system), among others.
The company has enhanced its product inspection and detection portfolio with the launch of the Dragonfly G3 inspection platform. Designed to meet the most advanced 2D and 3D sensitivity requirements for advanced packaging and specialty device manufacturers, the product is likely to be a boon in identifying low contrast defects that hitherto went unnoticed. Notably, the Dragonfly G3 platform offers sub-micron sensitivity for complex packaging designs requiring redistribution lines to the tune of 1µm. Such high-tech product attributes have become more relevant with the growing specialty device market, including next-generation power devices, RF filters and amplifiers. These products require impeccable quality standards and process control equipment beyond legacy systems' capabilities to detect smaller and new defect types. The Dragonfly G3 platform perfectly fits the bill with highly sensitive tools, providing repeatable and accurate data for high-precision product materials. The product has already garnered significant interest among customers and resulted in multiple orders from unnamed third-party packaging and test services providers and image sensor manufacturers.  
With a VGM Score of B, the stock delivered a positive earnings surprise of 20.8%, on average, in the trailing four quarters. Onto is housed within the Nanotechnology industry, which carries a Zacks Industry Rank #24, which places it among the top 9% of more than 250 Zacks industries. The stock's Zacks Industry Rank, which is basically the average of the Zacks Rank of all the member stocks, indicates encouraging prospects. Our research shows that the top 50% of the Zacks-ranked industries outperform the bottom 50% by a factor of more than 2 to 1. Consequently, the stock appears to be an enticing investment option in the volatile market.
Other Key Picks
Another top-ranked stock in the broader industry is Clearfield, Inc. (CLFD – Free Report) , sporting a Zacks Rank #1 (Strong Buy). You can see the complete list of today's Zacks #1 Rank stocks here.
Clearfield delivered an earnings surprise of 50.8%, on average, in the trailing four quarters. Earnings estimates for the current year for the stock have moved up 68.2% since January 2021. Over the past year, Clearfield has gained a solid 168.1%.
Qualcomm Incorporated (QCOM – Free Report) , carrying a Zacks Rank #2, is another solid pick for investors. It has a long-term earnings growth expectation of 15.3% and delivered an earnings surprise of 11.2%, on average, in the trailing four quarters.
Earnings estimates for the current year for the stock have moved up 35.4% over the past year. Qualcomm is likely to benefit in the long run from solid 5G traction and a surge in demand for essential products that are the building blocks for digital transformation in the cloud economy.
Sierra Wireless, Inc. (SWIR – Free Report) carries a Zacks Rank #2. It has a long-term earnings growth expectation of 12.5% and delivered an earnings surprise of 34.2%, on average, in the trailing four quarters.
Over the past year, Sierra Wireless has gained 9.4%. The company continues to launch innovative products for business-critical operations that require high security and optimum 5G performance.