An eco-warrior became embroiled in a fiery confrontation with GB News host Patrick Christys during a debate about wildfires sweeping across Europe.
Tom Burke, chairman of climate change think tank E3G, suggested Christys was "attacking" him during a war of words about how much climate change has had an impact on the issues currently being experienced in countries such as Greece.
---
More than 20,000 people were evacuated as a result of wildfires in the Mediterranean country when they broke out in July.
Whether climate change is to blame for the freakish flames has been a topic of hot contention, with some quarters of society suggesting they have only served to fuel hysteria.
During a tense exchange on GB News, Christys said Burke was attempting to "derail" the conversation.
"When I look at stats like satellites showing since the early 2000s when three per cent of the world's caught fire, we're actually down on that, and I just think, why are we being so hysterical?" He asked.
Burke pulled up Christys on his statistic, claiming it's simply untrue.
"I agree with you about some people being hysterical, but you're my prime candidate", he retorted.
"What you've just said is not a fact. You tell me where you've got it and I'll tell you where they're wrong."
Christys divulged the information to the eco-warrior sat opposite him, revealing the information had come from the Royal Society.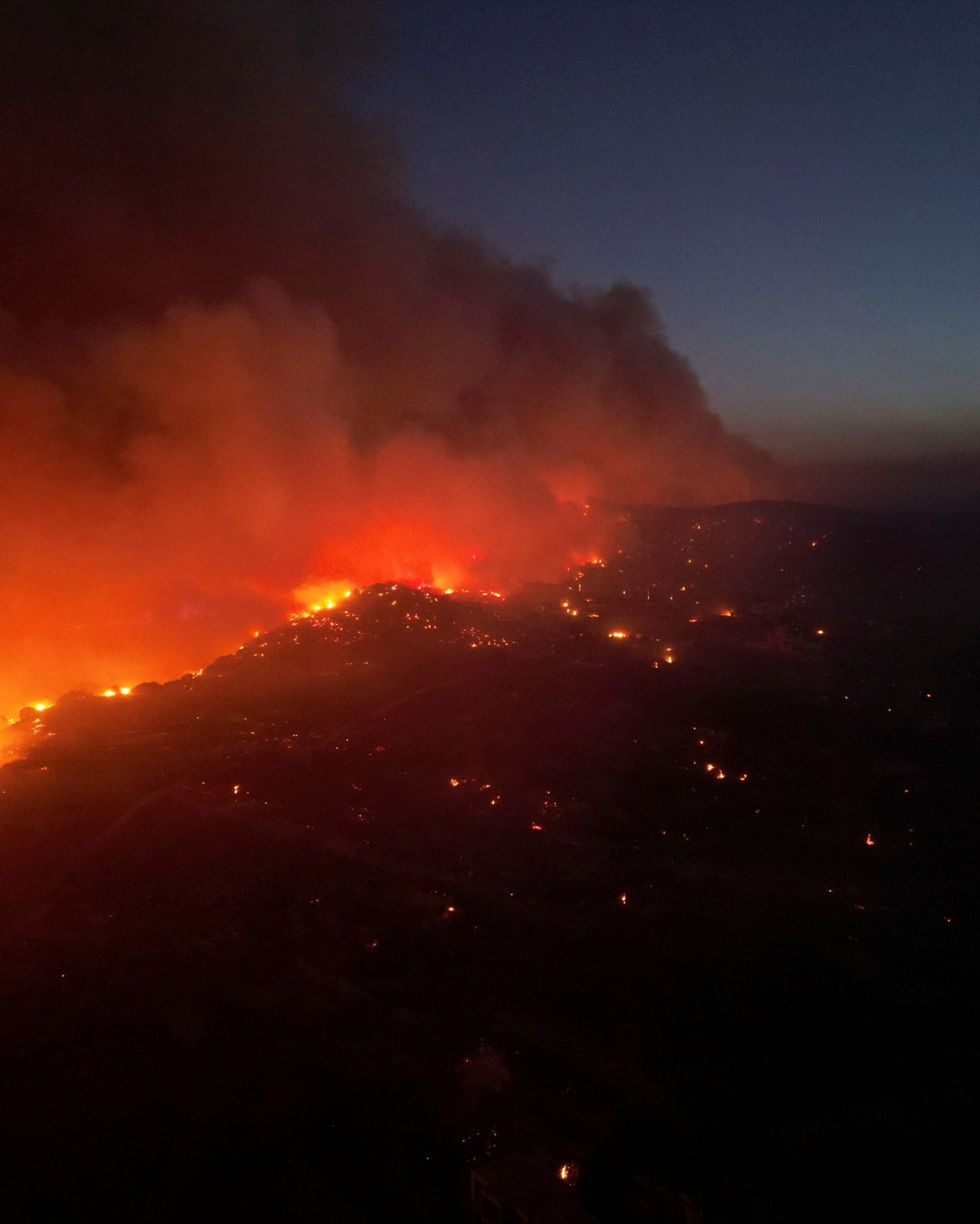 Smoke rises from a wildfire on the island of Rhodes, Greece, July 23, 2023Reuters
"What you've got in front of you is a script that said somebody said this, you've read what they said?" Burke responded.
Christys said: "I'm not going to let you derail the conversation, that is what people like you do."
E3G's chairman took offence to the comment, asking: "why are you attacking me? You're talking about me as if I'm an eco-zealot.
"You should have explained to people that we've always had arsonists, people lighting fires is not news.
"I'm not blaming anything other than climate change for the scale of these wildfires, which have ruined people's holidays."
In response to Christys' suggestion that the media is guilty of "hysteria" in relation to climate change, Burke conceded that there are elements of it.
"Is there an exaggeration in the media about everything including climate change? Yes there is," he said.
"This is ruining people, it's hitting taxpayers in the pocket," said GB News' Christys.
"People need to be more honest and when people like you are presented with facts like this, which you don't have the answers to.
"People are going skint because of this kind of hysteria!"
Greek island Rhodes was overrun by wildfires which were exacerbated by strong winds and a searing heatwave.
The UK did not issue any advice at the time that prevented holidaymakers from travelling to the Greek islands.
UK Foreign Office officials advised individuals to check with hotel and travel operators, as well as recommending signing up to emergency alerts.