B.C. to include so-called vertical farm buildings on list of allowable farm uses permissible on ALR land without Agricultural Land Commission permission.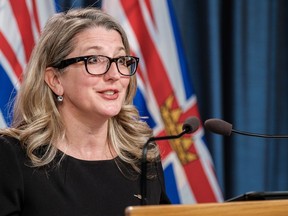 Article content
Vancouver has seen experiments with rooftop vertical farming on city buildings in the past, but Agriculture Minister Lana Popham is betting that being able to add them to agricultural zones will help bolster B.C.'s food security.
Advertisement
This advertisement has not loaded yet, but your article continues below.
Article content
On Saturday, Popham said the province will change B.C.'s Agricultural Land Reserve regulations that will allow proponents of vertical-farm buildings to pursue plans without having to seek the permission of the Agricultural Land Commission first.
"Proponents will only need to work with their local government or First Nations government to ensure local requirements are met and that it is a fit for their community," Popham said in an announcement Saturday from Victoria.
The change would put vertical-farm buildings in the same category as greenhouses or livestock operations as allowable farm uses on ALR land. Vertical farming uses hydroponic growing techniques in stacked units indoors, similar to greenhouses but under LED lights, and can produce crops year-round.
Advertisement
This advertisement has not loaded yet, but your article continues below.
Article content
Popham said supply-chain problems created by COVID-19 and last fall's catastrophic flooding that cut off key highway supply lines put a spotlight on B.C.'s food security.
"Vertical farming will create even more opportunities to increase the food supply in the province allowing farmers new options to produce more food year-round in more challenging climates," Popham said.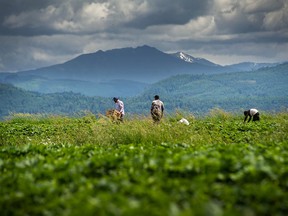 Popham and Jobs and Economic Recovery Minister Ravi Kahlon unveiled the change as part of the province's Stronger B.C. Economic Plan, which Kahlon billed as an innovative way of expanding agriculture with technology, so-called agritech.
Vertical farms would "help us ensure that our foods can continue to grow, but do it with a climate change lens, which is with less water, no pesticides in many cases and closer to supply chains so that we can limit the amount of transportation (needed)," Kahlon said.
Advertisement
This advertisement has not loaded yet, but your article continues below.
Article content
Vertical farming isn't new, a Vancouver company tried to establish a vertical system in a downtown parkade 10 years ago, but it failed to take root. Systems are costly, but groups have shown potential to grow greens in locations where transportation makes such produce prohibitively expensive.
Abbotsford Mayor Henry Braun said that in B.C. the new change "provides much-needed certainty and predictability" for companies to expand business operations.
Popham said B.C. has 150 so-called agritech companies and "vertical farming is one of the areas that we believe will help us mitigate some of our food-security challenges as we see extreme weather events like we've seen over this past summer."
And while the change "clarifies what we welcome in the ALR," Popham said vertical-farm operations will still be required to provide assurances that they have the ability to remediate the soils on agricultural land back to original conditions in case operations don't work out, similar to greenhouse or livestock operators.