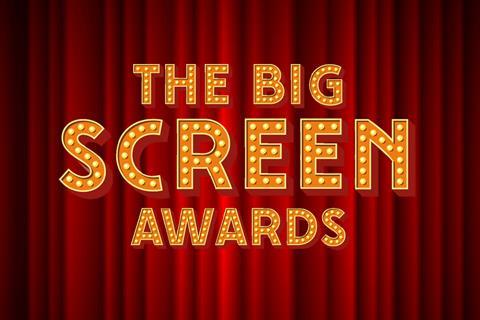 In 2019, we held the 10th edition of our Screen Awards. Now, after a two-year hiatus due to the pandemic, we are delighted to bring back our long-running awards ceremony celebrating the remarkable achievements of people and companies releasing films into UK cinemas and connecting them with audiences.
And we have a new name to go with it – The Big Screen Awards – in recognition of what being able to watch movies on the big screen means to us and to all movie-goers. Coming out of the pandemic, we feel it's more important than ever to celebrate the big-screen experience, and honour the achievements, the passion and the ingenuity of those within our industry who deliver this experience to audiences.
The event will be held at The Brewery in London on November 24. In recognition of the pandemic's impact on release strategies, awards will be based on work and achievements for releases within an extended eligibility period of May 17, 2021 (when UK cinemas were allowed to reopen) to September 9, 2022.
With the new name comes several new categories. Big Screen Innovation, previously known as the Gamechanger award, will recognise an innovation that has improved the big-screen experience or opened it up to new audiences.
Big Screen Event will reward an event – including a film premiere, programming season or even festival – that cut through the noise with film fans and the press, whilst the Green Screen Award will honour a company or individual who has promoted sustainable practices with employees and customers.
The final new awards are for Diversity and Inclusion Initiative, recognising an individual or company that has done inspirational work to help create a more inclusive industry, and Breakthrough British Actor and Filmmaker. The latter two categories will recognise British talent that made a theatrical impact, with the shortlists drawn up by the Screen International team and the winners selected by The Big Screen Awards jury.
Returning awards are Best British Film; Brand Partnership; Cinema Marketing Campaign; Cinema of the Year (25 screens or over, and 24 screens and under); Documentary Film Campaign; Event Cinema Campaign; Foreign-Language Film Campaign; Industry Rising Star; Poster Design; PR Campaign; Theatrical Campaign (199 Sites and Under, and 200 sites and over); Trailer; and finally the prestigious Distributor of the Year.
The winners in each category will be selected by an independent jury of industry experts, apart from Best British Film, which is selected by an online public vote.
The 2019 Screen Awards saw wins for Paramount Pictures UK, the BFI, Altitude and Curzon among others.
Further information is available on the Screen Awards website, where industry can register for updates.
For information about sponsorship opportunities, please contact Scott.Benfold@screendaily.com.