Dudley and Dean Evenson were on separate life journeys when the future spouses serendipitously met in 1968 in Manhattan's East Village.
Even though Dean had been playing flute since he was 10 years old and had performed in a number of classical and folk groups, his flute teacher had advised him it was too difficult to make a living with music. 
"It was the Sputnik era, so I decided to focus on science, but once I got my master's in molecular biology, I moved to New York City to follow my passion for music and become a recording engineer," Dean said. 
It just so happened he moved in across the hall from Dudley, who had recently returned from traveling around the world and living in Japan, where she was learning photography. 
"Dean was one of the most interesting people I had ever met," Dudley said. "[He was] so full of ideas for his life — none of which involved science. His passion was music and filmmaking. We shared a common dream of using our media to help make the world a better place."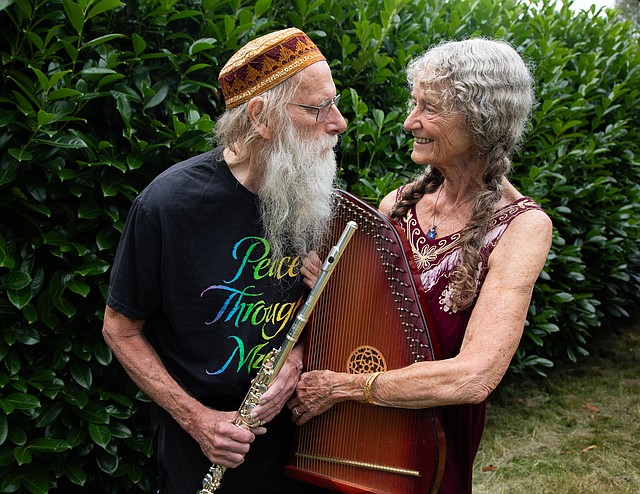 Dean worked for Regent Sound and learned more about the recording industry working with iconic artists such as Eric Clapton, Roberta Flack, Mose Allison, Gene McDaniels, The Blues Magoos and others.
Years before launching their own record label, Soundings of the Planet, the couple's first collaboration involved making a film for a Sam Shepard play at the Lincoln Center. 
They joined Raindance, a video group that published Radical Software, a magazine focusing on using the new technology of portable video as a revolutionary communications tool.
"We taught video to high school kids in the Metropolitan Museum of Art and helped set up the first public access television systems in New York City," said Dean, who's 78. 
"Getting involved in the early portable video movement changed the course of our lives," Dudley, 79, added.
She said that in the 1970s, they traveled the country in a renovated school bus with their growing family and documented the new consciousness that was emerging. The videos they made helped them understand how to create the kind of world they wanted "to replace the current failing system." 
They interviewed everyone from Native American wisdom keepers to Tibetan lamas, Indian gurus, ecologists, healers, artists, activists and people experimenting with early permaculture and sustainable communities. At the same time, they documented their own lives.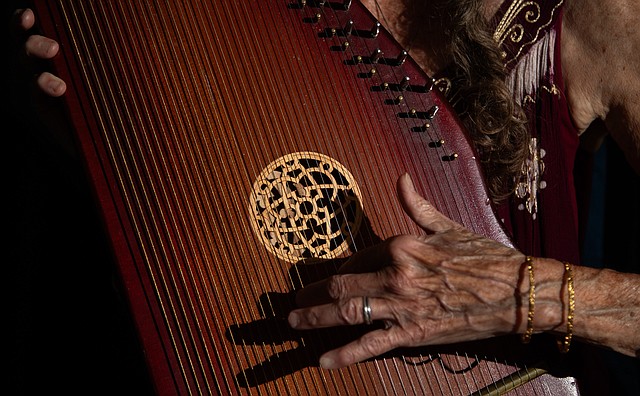 In 1973, Dean was invited to South Dakota to help transmit television from the Wounded Knee Occupation.
"I stayed on Pine Ridge [Indian] reservation for a month and videotaped medicine men and elders as well as videotaping the first-ever negotiations between White House representatives and the Lakota Sioux Tribe," he said. "It really influenced my thinking, and we wanted to get the message out about caring for the planet as well as calling attention to the unjust treatment of the Indigenous people of this land."
At the time, Dean said, there were no good distribution systems to get the message out because their video technology predated video cassettes, VCRs and modern technology. They had hundreds of hours of video in boxes they were unable to distribute.
Dudley said they were living in Tucson, Arizona, in 1979 and were asked to audio record a lecture by Ram Dass, who was popular for his book "Be Here Now." They got 50 orders for the cassette tape and realized audio cassettes could be a distribution system for them.
Dean said they decided to record their own music with him on flute and Dudley on harp, and add the sounds of nature — which they hoped would inspire people to care more about the Earth — for their first tape, "Desert Dawn Song."
Then they added their tape along with the Ram Dass tape and three others to launch Soundings of the Planet to carry a message of "peace through music."
"We still needed to get the music out," Dudley said, "so we started selling our tapes at swap meets and later graduated to arts festivals and street fairs. Eventually, we also sold through mom-and-pop shops, gift and book stores, and even mainstream record stores."
Dean said since they sold their music directly to the public, they received immediate feedback from their listeners.
"People would come back after listening and tell us how much the music helped them to relax and let go of stress," he said."It helped them deal with anxiety or chronic pain. Babies were born as our music was playing. The music helped people sleep better. Massage therapists and healers were among the early fans and people interested in yoga and meditation found the music to help in their process."
Dean and Dudley met and videotaped the Dalai Lama multiple times, and his Green Tara chant is on their album "Prayer: A Multicultural Journey of Spirit." 
They are excited about their latest release, "Seeds of Peace," featuring Ukrainian piano virtuoso Volodymyr Solianyk, who the couple met in Kyiv in 1987. His music, along with others, became part of their album "Music Makes the Snow Melt Down" by Soundings and a number of Soviet musicians.
The couple is grateful for their family and is happy several of their adult children have returned to Bellingham to follow their own artistic dreams. Elijah Evenson is a highly developed CG artist who worked in the video game world for years before finding his true passion in sculpture, and he's done a lot of art for his parents' albums and videos.
Their granddaughter, Cybele Olsen, is a dancer and founder of Cabaret Atelier, a Bellingham-based sensual dance studio and production company. 
Two years ago, Dean and Dudley launched the Peace Through Music Foundation nonprofit to help carry their vision, and it continues to expand outreach and develop resources for people interested in using music to support life in all its aspects.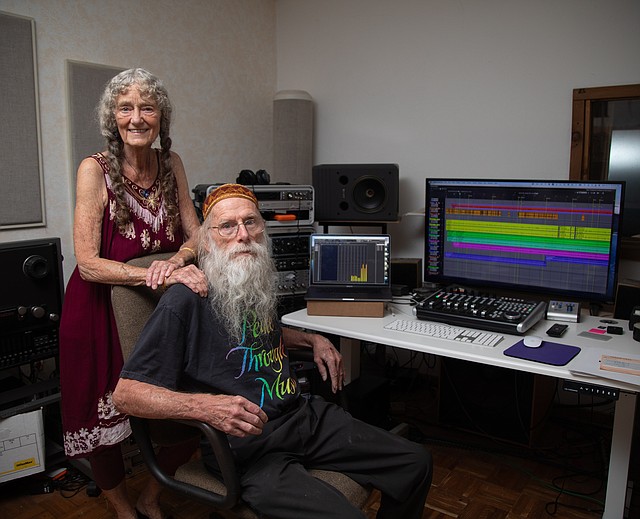 Working at their Bellingham-based studio near the Interurban Trail, they feel fortunate their engineer and collaborator, Phil Heaven, lives next door and conveniently pops by to help them with their projects.
"We are an artist-owned music and media business," Dean said. "We are grateful to have kept up with changes in technology and distribution and survived the many permutations in the music industry. Now with streaming, we are grateful to stay home on our land by the Nooksack River and keep creating new music and videos.
"Because our music is so popular and people use it for healing, sleep, meditation and as a background to many life activities, it all adds up."
For more on the Evensons and their music and mission, go to soundings.com.