NREL Supports Pacific Island Countries' Pursuits of Clean Energy, Resilience, and
Transportation Goals

---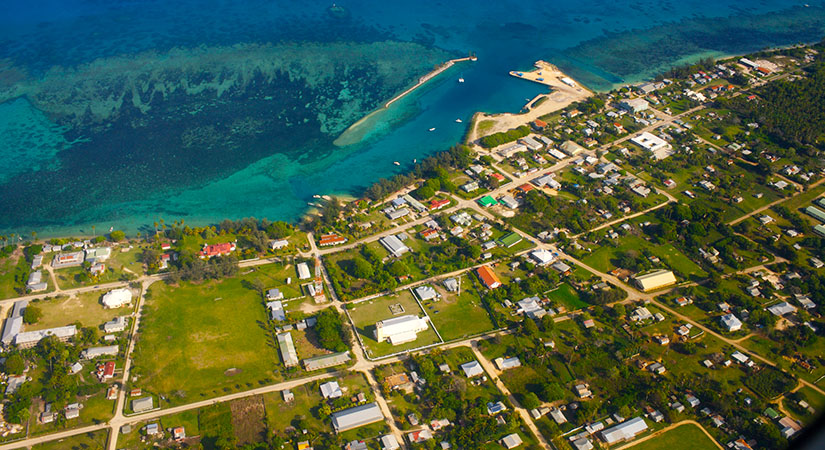 Island nations are on the front lines of climate change. Effects like rising sea levels
that erode coastlines and severe weather that causes flooding, among other challenges,
threaten critical island infrastructure.
This urgency is driving island nations to demonstrate leadership in adopting technologies
that can not only reduce emissions and combat the climate crisis but also provide
valuable economic opportunities, energy security, and resilience.
With support from the U.S. Department of State and the U.S. Department of Energy,
the National Renewable Energy Laboratory (NREL) is collaborating with the Kingdom
of Tonga and other island nations to support their ambitious clean energy, mobility,
and resilience goals.
Alongside representatives from the U.S. Department of Energy and U.S. Department of
State, NREL team members traveled to Nuku'alofa, Tonga, in June to hold a series of
workshops on transportation efficiency and electric mobility with Tongan and regional
stakeholders. They also facilitated the inaugural in-person meeting of the Pacific
Islands Electric Vehicle Working Group hosted by the Pacific Centre for Renewable Energy and Energy Efficiency (PCREEE).
How Sustainable Transportation Can Open New Roads to Opportunity
As of today, the Kingdom of Tonga imports the entirety of its oil products and vehicles.
By prioritizing electric vehicle (EV) deployment and other sustainable mobility options
(such as bicycles, walking, and other modes of transportation), Tonga not only seeks
to support its climate commitments but also to address energy security considerations
and create new economic opportunities.
"In addition to their climate benefits, EVs can reduce Tonga's reliance on expensive
imported fuel," said Prateek Joshi, an NREL team member assisting with transportation
and EV technical support in Tonga and the Pacific.
"This will help increase Tonga's resilience to economic shocks in the global oil marketplace
and reduce their reliance on fuel shipments that could be delayed from severe weather,"
Joshi said. "Moreover, the money saved on fuel purchases and subsidies could be used
on projects that bolster the transportation system and economy overall."
Building on previous assistance supported by the United Nations, the U.S. Department
of State, and the U.S. Department of Energy on Tonga's Energy Efficiency Master Plan and an assessment of transportation trends and case studies that are relevant to Tonga, NREL is supporting the government of Tonga's development of a national policy framework
for transportation system efficiency and EV deployment.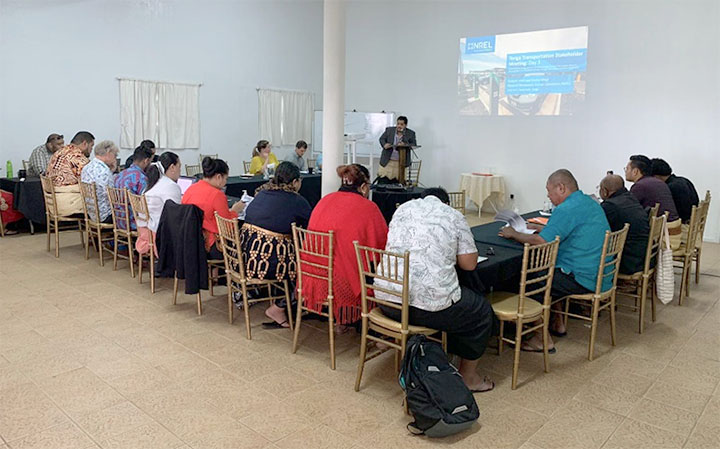 From June 12 to 14, 2023, over 20 stakeholders from regional governments, the private
sector, and development partners participated in three days of sessions focused on
Tonga's transportation system facilitated by Tonga's Department of Energy. Proposed
polices related to transportation system efficiency, EV adoption, and charging infrastructure
were discussed. Throughout these discussions, attendees provided detailed input and
feedback that will be incorporated into the policy framework, which aims to expand
access to sustainable mobility options while reducing carbon and pollutant emissions.
The workshops also incorporated feedback from neighboring country representatives,
including Tuvalu, Kiribati, Fiji, and Vanuatu, who shared insights on how these solutions
can be implemented in their countries.
"We value the partnerships we have with NREL, key stakeholders in Tonga, and our fellow
Pacific Island countries," said Emeline Veikoso Laumanu, deputy director of the Tonga
Department of Energy. "At the national, regional, and international levels, we see
these partnerships as mechanisms for change with EVs and transportation."
Island Chains Link Up To Achieve Regional Change
Tonga is just one of several Pacific Island countries prioritizing clean energy, resilience,
and sustainable transportation. Tuvalu, Kiribati, Fiji, and Vanuatu have also demonstrated
significant interest in e-mobility and decarbonization.
From June 15 to 16, 2023, PCREEE convened the first in-person meeting of the Pacific
Islands EV Working Group. This working group meeting brought together representatives
from Pacific Island countries as well as partners such as NREL, the Pacific Region
Infrastructure Facility, and the Global Green Growth Institute to collaborate on EV
deployment best practices and infrastructure development in the region.
"Adopting fossil-free technologies can not only help to reduce emissions but also
increase energy security and resilience for these island nations," said Derina Man,
project manager at NREL. "Regionally, Pacific Island countries share similar concerns,
and by collaborating with each other and technical institutions like NREL, we can
find common solutions."
The working group discussed e-mobility topics for the Pacific Islands, including the
importance of robust standards to mitigate risk and pilot projects for gaining experience
with new technology.
"This meeting reemphasized the importance of EVs in Pacific Island countries, and
PRCEEE is responding to those needs by partnering with technical institutions like
NREL, U.S. government agencies, the Pacific Region Infrastructure Facility, and the
Global Green Growth Institute," said Solomone Fifita, manager of PCREEE.
"These partnerships assist us in investigating topics of direct interest to the working
group," Fifita said. "For example, ministers across the region have expressed interest
in environmentally sound battery disposal, and one of our many sessions during this
workshop covered battery reuse and recycling."
NREL team members Joshi and Dustin Weigl, along with Pacific Region Infrastructure
Facility consultant Andrew Campbell, led technical sessions on additional priority
topics that aligned with the group's interests such as grid planning and management
and the role of EVs in grid resilience. This initiative was further supported by a
larger group at NREL, including Caley Johnson, Eliseo Esparza, Derina Man, and Michael
Callahan.
"A journey of a thousand miles begins with a single step," said Mafalu Lotolua, general
manager at Tuvalu Electricity Corporation, when presenting on Tuvalu's experiences
with an electric bike demonstration project in preparation for larger EV deployments.
As Pacific Island countries continue their journey toward decarbonization and energy
resilience, such technology and policy collaboration will help them drive toward their
goals.
Download Advancing Transportation Efficiency and Electric Vehicles in Tonga: A Review of Relevant
Trends and Best Practices.
Learn more about Tonga's Energy Efficiency Master Plan.