Quebecers care a great deal about the environment. It ranks at, or near, the top of the list in surveys about the most important political issues.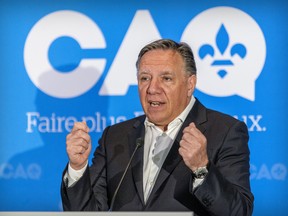 Article content
Sustainable development requires that governments look at environmental, social and economic aspects of their decisions.
Article content
Issues of sustainability have been cropping up more and more in regions where the Coalition Avenir Québec is counting on a strong performance to win a new majority.
Quebec is blessed with an abundance of natural resources. One of them, graphite, is in great demand worldwide as we transition to electrified transport. The challenge is that the major deposits of graphite are concentrated in southern Quebec, its most densely populated area. Citizens in Lanaudière, the region where Legault's own constituency is located, are up in arms about a massive graphite mine being planned in the region. Graphite mines are a hot button issue in the Laurentians and Outaouais, as well.
Also in the Laurentians, once-protected areas like the cliffs of Prevost are now the object of intense residential development. One of the perverse consequences of Greater Montreal's trend to densification in residential construction has been to push residential developers further north, putting tremendous pressure on biodiversity, including the peregrine falcon. Whole swaths of forest, some owned by foreign investment firms, have been chopped down and local residents and elected officials eye the expected sale of havens like Camp Tamaracouta with grave concern.
Article content
Social conflicts over resource development issues, including forestry, are increasing in Quebec, and Legault shows very little personal sensitivity to them. That could cost him dearly at the polls.
On the economic side, the CAQ can boast a solid track record (yes, we're still overtaxed in Quebec).
As a result, a bit like Duplessis, who reputedly gave out refrigerators back in the day, Legault can afford to be generous with us, buying votes with our own money. Oprah-like, he gives out $500 cheques to everyone and promises a new cheque in the fall, provided we're wise enough to re-elect him.
Unemployment is low and it's no small irony that one of Quebec's biggest economic challenges is a shortage of workers, exacerbated by Legault's anti-immigration policies.
Article content
The most debated topics on the social side of the sustainable development ledger have been "identity issues": Legault's Bill 21, which discriminates against religious minorities, and Bill 96, which targets Quebec's English-speaking community. Legault clearly thinks these new laws are winners, but polling is more nuanced, revealing deep rural/urban divides.
On another social issue, labour rights, Legault has been playing with fire and alienating key players who could have been allies.
It's worth recalling that Quebec has one of the highest levels of union membership in North America. You poke that bear at your political risk and peril.
Legault's otherwise extraordinary health minister, Christian Dubé, has the same blind spot as Legault when it comes to respecting workers' rights to bargain collectively and have their unions represent them when negotiating wages and working conditions.
Article content
Again last month, they ham-fistedly announced new rules for overtime in health care. The CAQ got the headline they wanted, but several nurses with whom I spoke were really upset. It seems none of this had been thought through and what the government crowed about actually excluded lots of deserving people because the details had never been worked out. The unions blasted the CAQ's manoeuvre.
Smart governments see unions as social partners. Legault and his crew clearly see unions as adversaries. That, too, could come back to haunt them.
Quebecers care a great deal about the environment and it ranks at, or near, the top of the list every time there's a survey about the most important political issues for voters.
Both the Official Opposition Liberals of Dominique Anglade and Gabriel Nadeau-Dubois's Québec solidaire will be pounding these issues from the progressive side during the election campaign.
There are a lot of votes on the line and sustainable development remains a vulnerability for Legault.
Tom Mulcair, a former leader of the federal NDP, served as minister of the environment in the Quebec Liberal government of Jean Charest.