Israeli TransitTech company Via announced on Tuesday the completion of a $130 million Series G funding round at a post-money valuation of $3.3 billion. The round was led by Janus Henderson with participation from Blackrock Innovation and Growth Fund, ION Crossover Partners, Koch Disruptive Technologies, and existing investor Exor. The company's previous funding round in March 2020 was for $400 million at a $2.2 billion valuation. The company also raised $60 million led by 83North at a $2.7 billion valuation between funding rounds. Via has raised $780 million to date.


 

This latest round is part of the company's preparations for going public, with most of the new investors being long-term players with a goal of being part of a future IPO. The entire proceeds from the Series G round will enter Via's coffers, but the company is expected to embark on a secondary-focused funding round in the near future.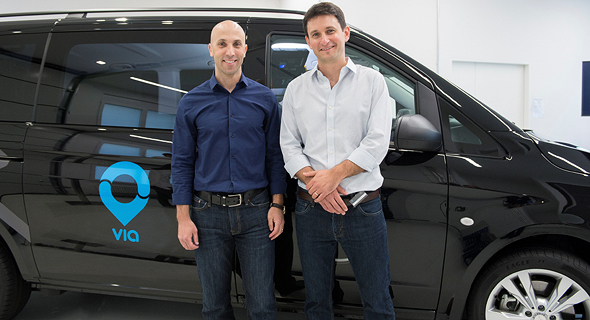 Via co-founders Daniel Ramot (left) and Oren Shoval. Photo: Courtesy
"We are experiencing a very significant period of growth with great demand for our product," Co-founder and CTO of Via, Oren Shoval, told Calcalist. "We are expanding in many markets and are also seeing great demand from investors which will allow us to grow even faster.

"The transportation industry is massive and there won't be a single company that will dominate it. But in our sector of real-time public transport management, I don't currently see any real competition for us. We hold more than 50% of the market in which we operate," added Shoval.

Founded in 2012 by CEO Daniel Ramot and Shoval, Via employs around 400 people in its R&D center in Israel, of the 1,000 people it employs worldwide. Via provides its smart public transport solution to over 500 partners in more than 35 countries. Via and ViaVan cooperate with public transportation providers, private transit companies, taxi fleets, corporate shuttles, and school and university transport services. In Israel, it is available through the Bubble Dan service in the Tel Aviv area.

With demand for software that can upgrade legacy transportation systems into advanced digital networks increasing rapidly worldwide, Via's TransitTech revenue has more than doubled year-on-year to exceed an annual run rate of $100 million. It is estimated that the company's total annual revenue is in the hundreds of millions of dollars.

"This is the most exciting time in transportation in decades," said Ramot and Shoval, co-founders of Via. "Cities around the world are recognizing the critical role that technology can play in improving the efficiency and quality of their transit networks. Our software provides an end-to-end solution that helps cities and public agencies plan, operate, and optimize every facet of their transportation system."
The global TransitTech category is expected to grow to an estimated $1.35 trillion by 2025, according to a recent BCG study, highlighting the critical role that transit plays in economic development, equity, and sustainability. In the United States, the recently passed Bipartisan Infrastructure Deal will see an unprecedented $91 billion annually in new and reauthorized funding guaranteed for public transit over the next five years. It follows the nearly $70 billion in federal Covid-19 relief funding already provided to support near-term transit needs. Many of the funds made available through these programs are provided for innovative mobility solutions that improve the efficiency of transportation networks, expand access for underserved communities, and tackle reducing carbon emissions and congestion.

Via acquired mapping software maker Remix in a $100 million cash and equity deal in March of this year.
"When we look at the public transit market today, we see tremendous opportunity," said Denny Fish, portfolio manager at Janus. "We've seen time and time again how traditional industries are transformed by the introduction of technology: FinTech, HealthTech, EdTech, and others have driven extraordinary improvements in performance and efficiency. TransitTech is next, and having created this category, Via is uniquely positioned to lead it. The company's mission to expand access to efficient, affordable, and sustainable transportation is inspiring."