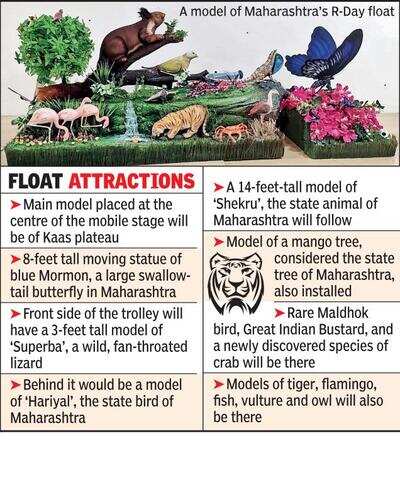 Nagpur: Sculptures, painters and fine artists from Vidarbha, mostly newly-graduated young boys, are creating Republic Day tableau for Maharashtra this year too. Artists from Yavatmal, Nagpur and Wardha are giving shape to a float dedicated to 'Biodiversity of Maharashtra'.
The opportunity this year follows the success in 2021 when these artists had depicted the Varkari tradition of Maharashtra on a moving float.
It is learnt, Nagpur's art group Shubh Ads has engaged the artists from Wardha, Yavatmal and Nagpur but it cannot reveal their names before the dress rehearsal of Republic Day parade begins. The artists have already left for New Delhi to finalize the float and for dress rehearsal. This year, the R-Day celebrations are set to start from January 23. So, they got an early call.
Minister of culture Amit Deshmukh said prominent and special biodiversity of Maharashtra will be displayed on the float. "The popular Kaas plateau in Satara district will be specially displayed during the parade. Maharashtra's state animal, bird, trees and newly-discovered crabs will also be displayed. This is going to be a completely different tableau at the R-Day parade," said Deshmukh while sharing pictures of the tableau's model.
"Maharashtra is known for its rich biodiversity. Apart from tigers, we have selected Maldhok birds for the display. The stage carrying the model would be decorated with Jarul, the state flowers of Maharashtra," he said.
One of the artists from Yavatmal, who is working on these models for the last two months, said that all the models are made of fibre glass. "An 8-feet tall and 6-feet wide model of butterfly is the main attraction apart from the Kaas plateau which is known for various types of seasonal wild flowers and species of endemic butterflies. We have tried to get a blend of rare as well as very common flowers on the float," he said.
FacebookTwitterLinkedinEMail